Barbarian is a term that has traditionally been used to describe humans who are perceived to be uncivilized or primitive. Although they are sometimes romanticized as noble savages, they're almost always associated with brutality and violence. In modern pop culture, barbarians are usually depicted as chiseled strongmen in loincloths who have muscles on top of muscles. Barbarian heroes are the very image of male power fantasy, and they were prevalent in the 1980s thanks to the popularity of Conan the Barbarian and He-Man. The archetype was commonplace in video games during that time frame, too. In an age where games were light on dialogue, it was fitting to focus on men of action.
---
---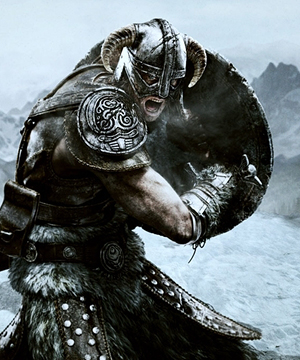 10
The Dragonborn
Elder Scrolls V: Skyrim
A Dragonborn (or Dovahkiin in dragon speak) is an individual born with the soul of a dragon but the body of a mere mortal. They are defined by an ability to absorb the knowledge and power from slain dragons, but they have the free will to champion any cause they desire. A Dragonborn can belong to any race or gender, and the equipment they wear is left to the discretion of the player. Elder Scrolls protagonist are known for having multiple-choice personalities and Choose Your Own Adventure destinies. It wouldn't feel right to rank a user-created character any higher on this list, but I'm giving the Dragonborn some recognition since the concept art and promotional materials for Skyrim all depict him as a muscular Nord with the look and demeanor of an archetypal barbarian hero.
---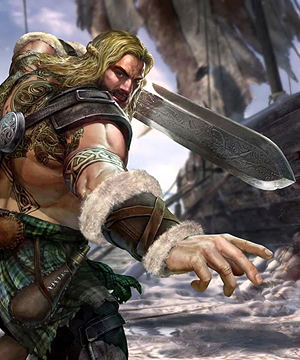 9
Tusk
Killer Instinct Series
When he first appeared in Killer Instinct 2, Tusk was depicted as a tribal warrior who was decked out in animal skins and armed with a giant sword. The legendary barbarian took styling cues from Vikings in the 2013 Killer Instinct remake, and he was re-imagined as the immortal watchman of the gods. Apparently, Tusk (or Tunth-ska, as he was originally named) had been created 10,000 years prior by a race of angelic beings. His purpose was to protect Earth from a diabolical demon named Gargos, but he had to wait a long time before he could fulfill his purpose and was robbed of his memories along the way. Tusk speaks languages that no longer exist and ate the flesh of animals long extinct, but his amazing physique and formidable sword skills make him a dangerous enemy in any era.
---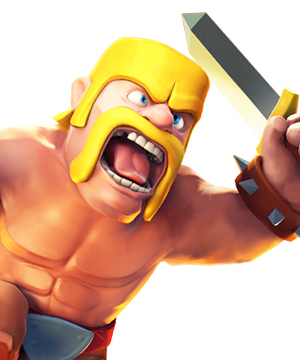 8
Barbarian Troops
Clash of Clans
It's easy to look down on mobile gaming, but the success of Clash of Clans cannot be ignored. The game was raking in $1.5 million a day during the height of its popularity. The goal of the game is to build towns with the resources that are obtained by attacking other players. Barbarians can help in this regard, and the fearless warriors are happy to destroy anything in their path. Their bulging muscles and yellow horseshoe moustaches make them look like Hulk Hogan, and they even have the same coked-out, battle-ready expressions! Barbarians are merely a generic troop class in Clash of Clans, but they have just as much depth as most of the men on this list and are deserving of recognition. No matter how dire things get, Barbarian troops are always ready for battle and hungry for destruction.
---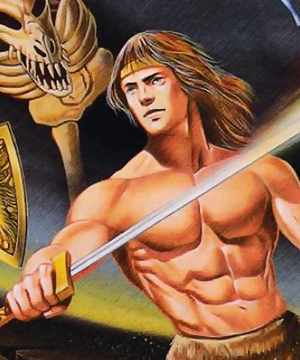 7
Gogan
The Legendary Axe Series
Gogan grew up in a remote village that offered human sacrifices to an evil half-beast cult ruler. While Gogan was away on a working vacation, the village decided to give up his childhood friend as the annual sacrifice. Upon hearing the news, Gogan immediately set out to rescue the scantily-clad girl. The village elders apparently felt bad about the whole thing, as they gave Gogan a weapon to help him in his travels. As you've probably gathered, this weapon was the legendary axe, and it increased his strength significantly! As Gogan journeys through dark forests, mysterious caverens, and scenic mountaintops, he's faced with obstacles that include rocks, monkeys, and rock-throwing monkeys. He also has to fight giant spiders. It's a lot of effort for one girl, but I guess purple-haired hotties are hard to come by.
---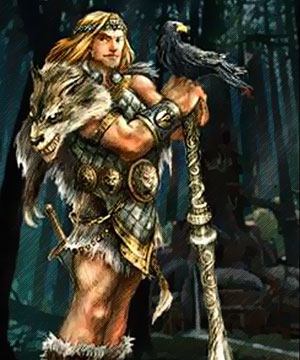 Gladius is a criminally underrated RPG from LucasArts that was released in 2003. The game tasks players with building schools of gladiators and battling against opposing schools in a quest for glory. Urlan is a burly man from the northern lands of Nordagh and heir to the throne of King Orin II. Many of Nordagh's inhabitants could be classified as barbarians, but Urlan is an obvious choice for this list. Urlan is close-minded and judgmental, but he's reliable on the battlefield and can easily break through enemy defenses. Barbarians are known for adorning themselves with animal skins, but the barbarians in Gladius take this concept to the logical extreme by shape-shifting into animals like bears and wolves. As if his myriad of swords, axes, and hammers didn't make him dangerous enough...
---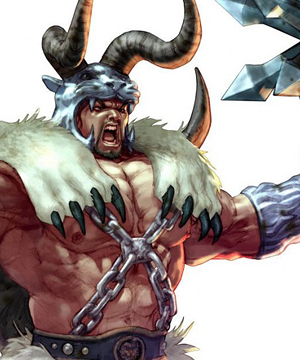 5
Rock
SoulCalibur Series
Nathaniel William Adams was born in London and nicknamed "Rock" because of his immense strength. After his family's ship was attacked by a notorious pirate, he was orphaned in the New World where he learned to live off the land like the natives did. Most of the tribes were afraid of the "White Giant," however, so Rock decided to leave the New World and reclaim his past life. During his quest to regain his memories, Rock crossed paths with warriors from all over the world. He wasn't the fastest fighter and his attacks were predictable, but the boisterous bruiser could overpower nearly anyone with his massive two-handed weapons. His chosen attire made him look like a wild animal, and he was every bit as dangerous. You'd never guess by looking at him that he was from a well-to-do English family.
---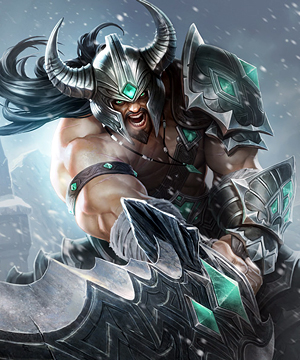 4
Tryndamere
League of Legends
While struggling to survive in the frostbitten land of Freljord, Tryndamere and his people engaged in many battles over the scarce resources. After the young barbarian king was mortally wounded by a mysterious dark figure, he watched helplessly as death and destruction engulfed his home. As his life began to slip away, Tryndamere banished his mortality and gave in fully to his wrath. Consumed by anger and fueled by rage, Tryndamere became a brutal instrument of revenge as he mastered the barbarian ways of war. He was unable to surrender to death himself, but he was more than willing to bring it to anyone who stood between him and his final retribution. With vengeance on his mind, Tryndamere makes a point to challenge all of the Freljord's greatest warriors as he works his way through the frozen tundra.
---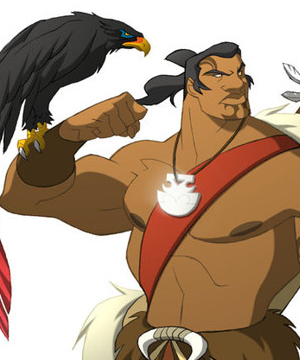 3
Rau Utu
The Mark of Kri Series
The Mark of Kri and its sequel employ a visual style influenced by Polynesian culture, so Rau Utu stands out on this list. Don't be taken in by his Disney-esque appearance, however. Rau is possibly the most ruthless and vicious individual on this list, and he'd be a great fit for the Mortal Kombat series. He carries himself with honor as he battles sects of dark magicians, but he's defined by his brutality. The powerful warrior can wield weapons that are as large as he is, and he'll happily confront multiple enemies at once. At the same time, he uses stealth as a conduit for violence. Rau will smash heads into walls, impale people on spikes, stab his enemies in their throats, and decapitate his rivals without warning. It's no wonder that his peers often address him as "Barbarian" rather than using his real name.
---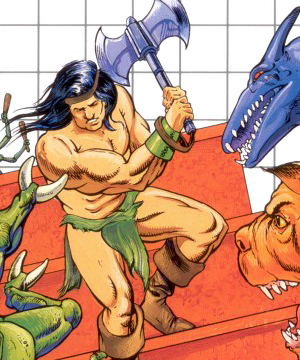 Rastan is a barbarian-for-hire who offers to slay a dragon in exchange for all the treasure in the kingdom. His days of high adventure were defined by murder and thievery, but his life experience made him the perfect candidate to dispatch monsters. Armed with various swords, maces, and axes, Rastan battles hordes of mythical monsters on his way to the dragon's lair. He encounters skeletal warriors, winged swordsmen, powerful wizards, and even a five-headed snake! Rastan is a man of few words and doesn't offer much in the way of exposition, but his actions speak louder than words. Rastan was obviously conceived as a shameless Conan the Barbarian knockoff, but his adventures spanned several games on various platforms. He even had a cameo in Taito's Champion Wrestler.
---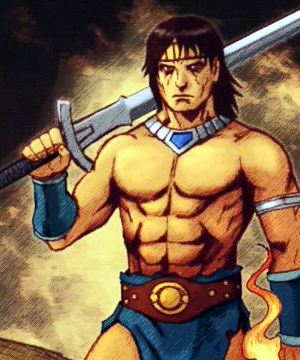 1
Ax Battler
Golden Axe Series
Ax Battler is a brawny warrior who embarks on a mission to destroy a tyrant named Death Adder who conquered the land of Yuria and captured the royal family. Oh yeah, he also killed Ax Battler's mom. (This Death Adder guy sounds like a real jerk!) Needless to say, Ax Battler was not impressed. It's clear from the beginning that Ax Battler doesn't mess around. He flat out decapitates a dude during the arcade game's attract mode, and his antics were so violent that they were censored overseas. The fact that Ax Battler fights with a broadsword instead of an axe (as his name suggests) shows that he's not afraid to break convention. The Golden Axe series has featured numerous barbarian characters, but none are more iconic than Ax Battler. He was even given his own Golden Axe spinoff.
---
Random Lists