Home computers design by western companies struggled in Japan due to their inability to adequately handle Japanese text. This led to companies like Sharp and Fujitsu releasing higher-resolution PCs that could properly display complex Japanese characters. These machines were also ideal for playing text-heavy RPGs and adventure games. There was a lot of competition, but PC-88 series from NEC was favored by many developers. Dozens of publishers (including Square, Enix, and Sega) produced games that were available exclusively on NEC's machines. The PC-88 had a lot of momentum behind it, but support shifted to the more-powerful PC-98 in the years that followed.
---
---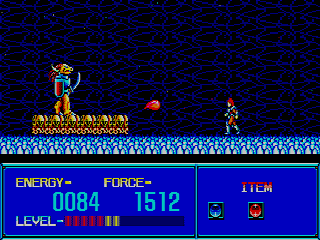 The Scheme is a side-scrolling adventure game that could be described as a more primitive version of Metroid. There are nearly 500 inter-connected screens to explore, and games of that scope were not commonly seen on the PC-88. Navigation can be somewhat confusing at times given the repetitive layouts and the sheer size of the game, but the progression itself is relatively linear and never becomes too overwhelming. The game relies heavily on backtracking and can feel a little bloated at times, but the detailed environments, quirky enemies, and the incredible music will provide gamers with plenty of motivation to keep playing. The graphics are impressive in their own right, but the soundtrack is arguably the most notable aspect of the game and the deciding factor for The Scheme making it onto this list. The music was composed by Yuzo Koshiro, who is known for his work on Streets of Rage, ActRaiser, and Ys among others. The Scheme wasn't as well-known as the other games Koshiro worked on, but the music deserves to be heard and the game deserves to be played. The Scheme is arguably the most obscure game on this list by virtue of the fact that it's the only one that was released exclusively for the PC-88.
---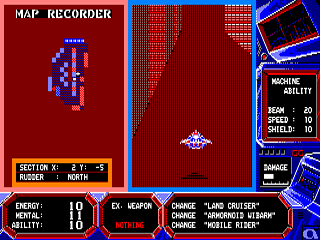 WiBArM is a hybrid of an action game and an RPG that combines run-and-gun gameplay with dungeon crawling exploration. The game puts players in control of a transforming robot that can switch between walking mode, a tank, and a flying jet. As players progress, they'll have opportunities to upgrade their equipment or use the game's experience system to increase their stats. The game employs a typical side-scrolling view during on-foot outdoor segments. While exploring the insides of buildings, however, the game switches to fully polygonal 3D environments and allows for 360° movement. This was incredibly ambitious for 1986. When the DOS version hit American store shelves three years later, it was still felt like it was ahead of its time. Fortunately, the game included a compass and an automap to prevent things from getting too confusing. There's no need to map out the level layouts with a pencil. The game hasn't necessarily aged as well as some of the other games on the PC-88, but there was really nothing else like it at the time. If this list was ranked solely on ambition, WiBArM would have been an easy choice for the top position.
---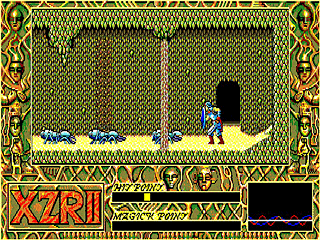 XZR II is an action RPG and part of a trilogy of highly controversial games. Versions of the game were released on the Genesis and TurboGrafx CD as Exile, but these ports were heavily-censored. XZR II switches between an overhead perspective and side-scrolling sections, and light platorming elements are used during the action sequences. The basic gameplay is run-of-the-mill, but the story is anything but. The plot follows a time-travelling assassin named Sadler on his quest to unite the world under God. Most RPGs at the time were based in fictional fantasy worlds, so references to real-life political leaders and religious figures really made the XZR series stand out. During the events of the first XZR, Sadler ended up assassinating both the Caliph and the US President. XZR II is just as controversial. The game is set during the Crusades and the story takes place in several different countries. During his adventure, Sadler slaughters Hindu and Buddhist deities, aides the head of the Knights Templar, resurrects a Manichaean prophet, and rescues the leader of a totally rad Japanese sex cult. He also meets Roman gods in the Garden of Eden and travels to present-day New York where he ride the subway and battles skateboarding punks for some reason. As if the religious iconography wasn't controversial enough, the game is also loaded with drug references. Instead of potions, Sadler uses narcotics like hashish, opiates, LSD, and marijuana to heal himself or increase other attributes. XZR II would still be a lot of fun to play even if you discount the controversial elements, but it's always nice to see a game that isn't afraid to ruffle a few feathers.
---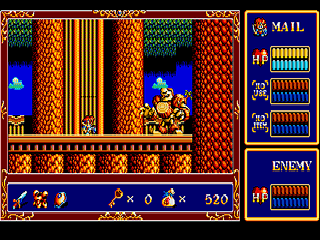 Popful Mail is a side-scrolling platforming game with RPG elements. Western audiences might liken it to Wonder Boy III or Zelda II, but it borrows most heavily from Nihon Falcom's own games like Xanadu and Ys. Like Ys, Popful Mail doesn't have a dedicated attack button. Instead, players just run into their enemies until they explode. It's simplistic, but the ability to jump over enemies or attack them from behind adds an element of strategy to the equation. The option to freely switch between one of three playable characters at any time adds another level of depth to the game. Either way, the simple approach to battles is more fun than mashing buttons or mindlessly hacking away at your foes. Fantasy games often rely on overused clichés, but Popful Mail is self-aware and doesn't take itself too seriously. The story is whimsical, the characters are likable, and the scenarios are downright ridiculous at times. When a game features villains named Nuts Cracker and Muttonhead, you pretty much know what you're getting into. Enhanced versions of Popful Mail were released on various platforms. While the graphics, music, and game mechanics were all refined in later releases, the characters and story were pretty much left unchanged. Popful Mail is a whimsical game and pretty much the polar opposite of XZR, but there's nothing wrong with a little variety.
---
6
Fire Hawk: Thexder - The Second Contact
1989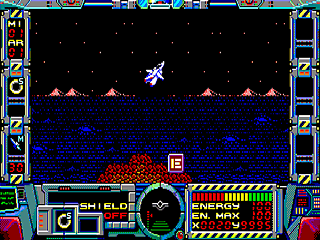 Thexder was one of the most significant PC-88 games ever released. The system's library was more-or-less defined by graphic adventures and simple puzzle games, so a side-scrolling action game really stood out in 1985. The game is centered around a fighter robot who can turn into a flying jet at any time. The concept was a perfect fit for an era dominated by Transformers and Go-Bots. The jet can reach areas that would be otherwise inaccessible to the player, but it can be difficult to contend with enemies in this form. The combat is a little easier in robot form (since the aiming is automatic), but the robot is slower and less mobile. The stages in Thexder were a lot larger than what was typically seen at the time. This was fitting, since players had the power of flight and were given a lot more freedom than most games allowed. Thexder isn't as vast as Metroid and action isn't as refined as Contra, but it was a landmark action game that helped define the genre. Sierra and Activision licenced Thexder from Game Arts and ported the game to multiple platforms. By 1990, the game had sold over a million copies worldwide and was one of the best-selling computer games at that point in time. The oddly-named sequel didn't see the same level of success, but it offered several improvements. It expanded the story, introduced new weapons, included more missions, and added more enemies and bosses. The soundtrack wasn't quite as memorable in the sequel, but Fire Hawk was a better overall game and the best action game on the PC-88.
---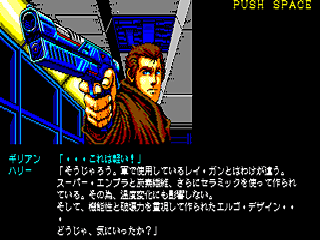 Snatcher is a cyberpunk-themed graphic adventure game that was written and directed by Hideo Kojima. Like most graphic adventures, it basically feels like an interactive Choose Your Own Adventure book. Players assume the role of a detective in the game and use a menu-driven interface to gather information for their investigation. The detective has amnesia, so the information you gather as the game progresses reveals as much about the main character as the case he is working on. This creates a feeling of self-discovery and makes it easier to empathize with the main character as the story evolves. Snatcher takes place 50 years after a catastrophe has effectively wiped out half of the earth's population. In this post-apocalyptic world, artificial life forms known as "snatchers" have begun killing people and taking their place in society. Like many Kojima games, Snatcher clearly takes inspiration from American cinema. The snatchers themselves are lifted straight out of Terminator and the Blade Runner influence is noticeable through the entire game. Adventure games and the PC-88 went hand-in-hand, but the setting and characters in Snatcher make it stand out from the pack.
---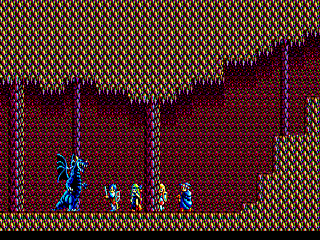 Sorcerian is a side-scrolling action RPG and the fifth entry in Nihon Falcom's Dragon Slayer series. It's fantasy setting was nothing new and many of the game's features are considered standard fare by today's standards, but the scope of the game was impressive in 1987. The game allows players to create up to ten highly-customizable characters. There are four different classes to choose from (wizards, fighters, elfs, and dwarfs) and over 60 possible jobs for each of them that range from a clown to an exorcist and pretty much everything in between. These jobs affect seven primary attributes, and weapons and equipment modify these stats further. The game gives players 15 diverse missions to choose from, and they can be completed in any order. Players are also free to abandon the missions at their leisure and return to them at a later time. Only four of the ten characters can accept any particular mission, but the remaining party members will learn new abilities and potentially earn money for the group. With each passing mission, the characters will also age and can even die permanently at random times. The passage of time adds to the scope of the adventure and helps tie the mini-quests together. The numerous missions and near-limitless party combinations make Sorcerian one of the most engrossing RPGs of its day, and even more value was added by three add-on expansion packs that contained new scenarios.
---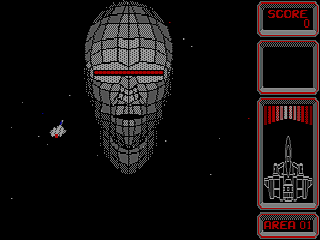 Silpheed was the most visually interesting shooter on the PC-88. The use of scaling sprites and simple, flat-shaded polygons created a pseudo 3D effect that helped make Silpheed feel radically different than every other shooter on the system. Polygons were seldom used in the 8-bit era, and Silpheed was way ahead of its time in that regard. Although the game is relatively short, it has a lot of variety. At times, the game plays like a glorified version of Galaga and tasks players with shooting down waves of enemy fighters in empty outer-space environments. As the game progresses, the environments become more complex and players have to avoid running into walls or obstacles inside enemy bases. The large bosses also help the game stand out and were quite novel for a game released in 1986. The gameplay is surprisingly creative too. There are five weapons to acquire, and they can be attached to either the right or left wing of your ship. This allows players to mix different types of weapons together in order to find a combination that works for them. The game also takes an interesting approach with respect to how players take damage. Most games in the genre have cheap one-hit kills, but the ships in Silpheed have shields that will deplete over time. Once the shields are destroyed, the ship will start to take damage. Weapons will stop working and thrusters stop functioning, but players are still given a chance to salvage things before taking their final shot. Silpheed could have skated by entirely on its groundbreaking graphics and stellar music, but the play mechanics were surprisingly creative.
---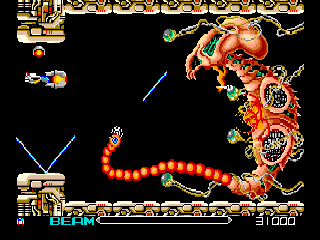 The PC-88 wasn't exactly an ideal platform for shooters or action games, but R-Type is a surprisingly faithful port of Irem's classic arcade game. The stages and enemies use bio-mechanical designs that were clearly inspired by H.R. Giger's work, so it's nice that the PC-88 was able to retain so much detail from the original arcade release. Fans of the arcade game can expect to see the same upgradable weapons, protective force pods, and massive screen-filling bosses in the PC-88 version. All of the fundamental gameplay elements that made the arcade game a hit were successfully translated as well. R-Type is an intensely challenging game that is full of action, but it also requires strategy on the part of the player and doesn't feel as unfair as a lot of shooters do. The ability to charge your shot or re-position your companion pod creates a level of depth that goes beyond the usual "shoot and dodge" dynamic that the genre is known for. It's not a pixel perfect arcade port by any stretch of the imagination, but R-Type is easily the best-looking and best-playing shooter released on the PC-88. Unfortunately, it was released fairly late into the PC-88's lifecycle and was overlooked by most gamers.
---
1
Ys II: Ancient Ys Vanished
1988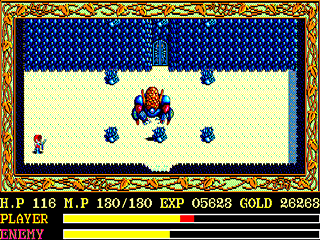 The Ys series is a bit of a paradox. It's popular enough to have warranted releases on nearly two dozen gaming platforms, yet it seems relatively unknown to casual gamers. Although it never gained the recognition of Dragon Quest or Final Fantasy, Ys is Nihon Falcom's most popular series and one of the most iconic Japanese RPG franchises of all time. In many ways, Ys is one of the most accessible RPGs of its era. The story is easy to follow and the battle system is so streamlined that it doesn't even require an attack button! Instead of pressing a button to swing a sword at your enemies, you just run into them head-on. Without question, the most timeless aspect of the game is its incredible soundtrack that emulated everything from haunting violins to metal driven guitar rock. It's rare to see a soundtrack with so much variety. Although Ys created a solid foundation, it was basically a warm up. Ys II was a direct continuation and just expanded upon the original. The games are so similar that they are often bundled together as a single game. The addition of magic spells in Ys II made the battles less one-dimensional and also added a level of depth outside combat. (The transformation spell, for example, gave players the ability to disguise themselves and infiltrate enemy strongholds.) The PC-88 was home to many RPGs, but none define the system more than Ys and Ys II.
---
Random Lists