The original Xbox was an ambitious product in many ways, but Microsoft had to bleed red ink in order to make their mark in the video game business. The Xbox 360 sold much better than its predecessor and was arguably the system of choice for core gamers and third-parties alike. Xbox Live offered the most robust online features of the generation, and many publishers favored the Xbox 360 as a result. The Xbox 360 was the first console designed with HD graphics in mind, and it was on store shelves for 11 years before it was discontinued. The Xbox 360 and PlayStation 3 had similar capabilities and appealed to similar audiences, so it's not surprising that they had similar libraries. The "Console Wars™" often boiled down to a debate over which system had the best exclusives, but this list simply aims to recognize greatness.
---
---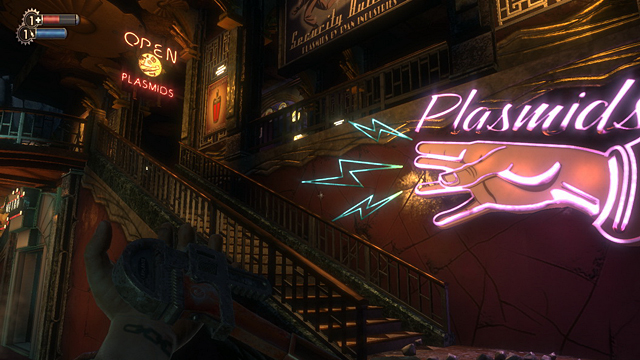 A spiritual successor to the System Shock series, Bioshock is a first-person shooter that was rightfully praised for its unique setting and immersive environments. The underwater city of Rapture is unforgettable, and its retrofuture design underscores both progress and decline. The history of the isolated utopia is mostly relayed through audio recordings, and the city's problems become increasingly apparent as the game progresses. The morality-based storyline in Bioshock is provocative, and the way the elaborate plot unfolds is downright captivating. The play mechanics were pretty ambitious in their own right. Bioshock is a FPS at its core, but there are RPG elements and stealth-based mechanics as well. The game even borrows concepts from the survival horror genre, and its legitimately frightening at times. The hulking Big Daddies are especially noteworthy, and they'll pursue you with the relent of a freight train. In addition to a myriad of weapons, players can also make use of "plasmids" to give themselves various super powers. If you get tired of hitting people with pipe wrenches, you can always shock them with electro bolts, trap them in a mini-tornado, or spawn a swarm of bees (beads?) to distract them. The game starts to feel a little repetitive after a while, but Bioshock stands as one of the most creative and ambitious games of its generation.
---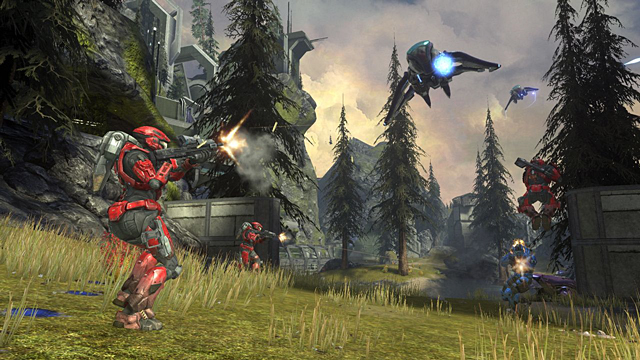 It's impossible to single out the best Halo game on the Xbox 360 without drawing heat, but there are many reasons why Halo: Reach stands out in my mind. A prequel to Halo: Combat Evolved, Reach follows the actions of the "Noble Team" rather than focusing on Master Chief. This concept allowed Bungie to introduce new characters and settings without outright abandoning previous plotlines. The game actually tied up a number of loose ends – which was appropriate seeing as how it was the last Halo game developed by Bungie. Despite its familiarity to Halo: Combat Evolved, Reach did a great job of highlighting different playstyles and introduced many new elements without ruining the balance or difficulty curve. Concepts like drop shields and active camouflage were expanded upon, and new gameplay mechanics like jetpacks and sprinting brought a lot of variety to the fold. The map-editing tools from Halo 3 were greatly expanded in Reach, and Forge has been a central component of the series ever since. The multiplayer in Halo: Reach is divisive, but the weapons and armor abilities are fairly well-balanced. Proper strategy and acquisition of certain weapons will lead to victory, but it never feels completely unfair. Fans are pretty evenly divided over whether Reach is one of the best Halo games or one of the worst, but you have to admire the passion of the fan base either way.
---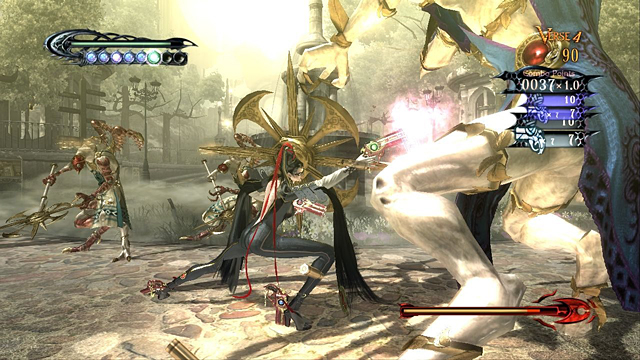 Bayonetta is a "character action game" along the lines of Devil May Cry or Ninja Gaiden that puts a heavy emphasis on combos. A hyper-sexualized witch with a hyper-sarcastic sense of humor, Bayonetta stands tall as the best new character of her generation. Her menagerie of moves is seemingly endless, and she can attack her foes with a variety of firearms and melee weapons. She can also change her shape or summon demons to aide her in battle. The vast repertoire of attacks combined with Bayonetta's unnatural flexibility leads to amazing combos, but the play mechanics feel completely intuitive. Regardless of how heated things get, the player is always in complete control of the action. Although the focus is on the characters, Bayonetta features memorable stage designs. Bayonetta isn't bound by gravity in the way that most characters are, and she often ends up walking on walls while dispatching her enemies. Imposing boss battles, an infectious soundtrack, and a silky-smooth framerate round out the best action game of its era. The PlayStation 3 version (which was marred by blurry textures and an inconsistent framerate) is not an adequate replacement for the Xbox 360 version.
---
7
Red Dead Redemption
2010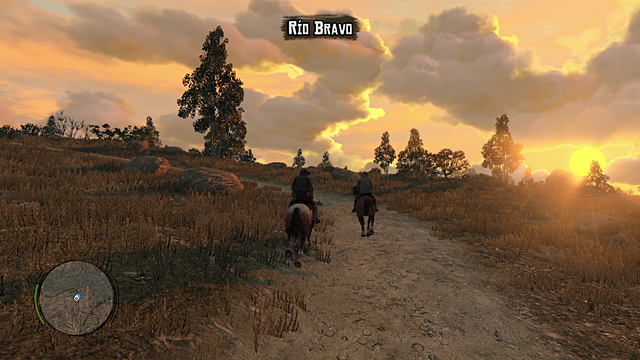 Grand Theft Auto III popularized the concept of "sandbox" games that allowed players to explore the world at their discretion rather than following the pre-determined narrative. The Old American West is the perfect setting for this type of game, since that point in history was also associated with unhindered freedom. In Red Dead Redemption, players assume the role of a former outlaw who is tasked with bringing his old gang to justice. Everything you'd expect to see on the Frontier is represented in the game. There's gunfights, horseback riding, train robberies, public hangings, hunting, gambling, duels, and hookers aplenty. The game's world is mostly comprised of undeveloped land, however, so there's always an underlying sense of tranquility regardless of how overwhelming your missions are. There's so much to do in the game, but it can be incredibly relaxing to do nothing at all. The visuals are stunning, the soundtrack echoes Ennio Morricone, and the plot actually gives you a reason to care about the characters. Its single-player campaign was enough to earn Red Dead Redemption a spot on this list, but the 16-player online multiplayer mode adds even more value to the game.
---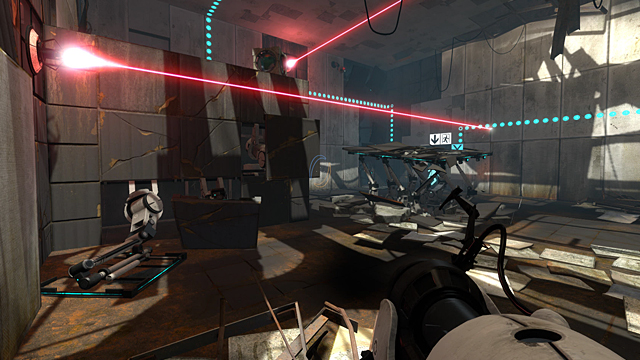 Portal is one of those games that is so creative that it basically falls into its own genre. Valve made a name for themselves with legendary first-person shooters, but first-person puzzle-platformers like Portal were a rare breed. The entire premise of Portal revolves around the "Aperture Science Handheld Portal Device" – which is essentially a gun that creates portals on various surfaces. Each Portal has an entrance and an exit, so players need to demonstrate strong spacial awareness skills in order to maneuver through the test chambers. Momentum is retained when traveling through the portals, so concepts like gravity and acceleration often come into play. Portal 2 expanded upon the concept by introducing a multiplayer component and adding new features like tractor beams and light bridges. Since the puzzles were more complex, the sense of accomplishment was also more pronounced in the sequel. Portal and its sequel could have coasted by on their concept alone, but they're as acclaimed for their sense of humor as their gameplay. GLaDOS was recognized on this site as one of gaming's greatest villains, and the neurotic Wheatley was played to perfection in the sequel. It's not the longest game in the world, but its irreverent sense of humor and inventive level design make Portal 2 an unforgettable experience.
---
5
Ultra Street Fighter IV
2014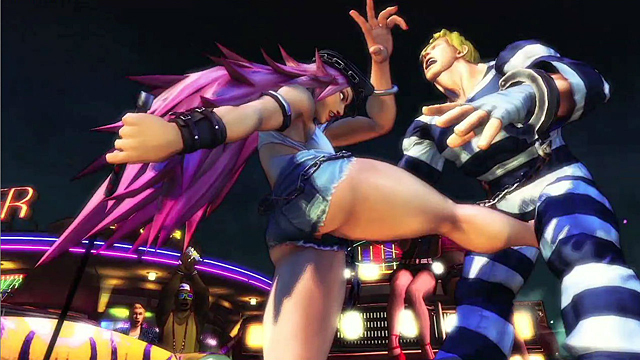 Street Fighter II ignited a gaming revolution in the early '90s and the fighting genre remained popular for the entire decade. By 2009, fighting games were no longer en vogue and the major franchises sold fractions of what they had in the past. With Street Fighter IV, Capcom reminded everyone of why the genre was so beloved in the first place. There was a concerted effort to make the game look and feel like Street Fighter II, and even the bonus rounds were re-created. This isn't to say that there weren't any innovations, however. (For instance, the new "Focus Attack" gave players a way to absorb their enemy's attacks and launch a counter assault.) Street Fighter II's whole roster returned and they were joined by other popular franchise characters and a handful of new ones. By the time Ultra Street Fighter IV rolled around, an incredible 44 fighters were featured on the roster. Street Fighter IV was the most refined fighting game of its era, and each new version felt more balanced than the last. I still consider Street Fighter III: 3rd Strike to be the greatest fighting game ever created, but there's no shame in winning a silver medal.
---
4
Grand Theft Auto V
2013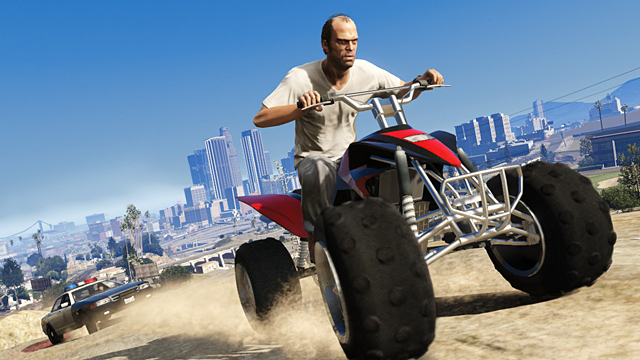 Grand Theft Auto IV was praised for its "Oscar-caliber" drama, but Grand Theft Auto V brought the fun back to the franchise. The urban sprawl of Los Santos fits the open-world concept better than the claustrophobic Liberty City, and Grand Theft Auto V is much larger than its immediate predecessor. Fortunately, various cars, bikes, boats, and aircrafts allow players to get around the vast city with relative ease. Aside from the expected visual improvements, Grand Theft Auto V features a more reliable cover system and less twitchy controls than earlier games in the series. The new stealth mechanics provide players with more options too, and you can often rely on patience in lieu of playing Rambo. The new character-switching mechanic is arguably the most significant gameplay addition. The story focuses on three criminals from different backgrounds, and players can switch between them at will. This structure adds even more variety to the game and allows for better pacing from a storyline perspective. There's so much to see and do at any given time. One minute you'll be practicing your yoga poses, and the next you'll be riding a dirt bike on top of a train. The game never takes itself too seriously and is over-the-top in the most delightful way, but the sheer variety of things to do gives you a sense that you're in a living, breathing city. The scope of the game is unparalleled on the Xbox 360.
---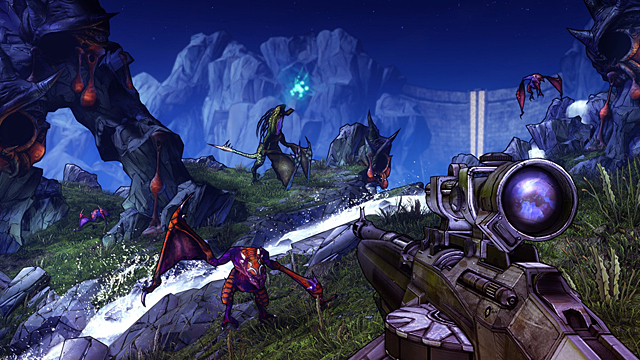 >Set on the desolate planet of Pandora, Borderlands 2 follows the adventures of vault hunters as they complete missions and collect randomly generated loot. The simple cel-shaded graphics immediately stand out from the "plastic dirt" look that most AAA games from the era employed, and this is indicative of a game that breaks convention at every turn. Cross genre titles often lack direction, but Borderlands 2 excels as both an action RPG and a first-person shooter. Players have to be mindful of concepts like experience points and elemental damage, but the gunplay mechanics are surprisingly solid too. The selection of weapons, shields, and other upgrades encourages the use of different strategies. Moreover, the selectable characters each have their own unique abilities and skill trees. With four Vault Hunters to choose from (and two more available via DLC), Borderlands 2 is actually worth playing multiple times. Torrents of downloadable content and a robust multiplayer component increase the replay value even further. Borderlands 2 is unabashedly violent and some of the bosses require a lot of patience, but ridiculous characters and a sarcastic sense of humor keeps things lighthearted and fun.
---
2
Batman: Arkham Asylum
2009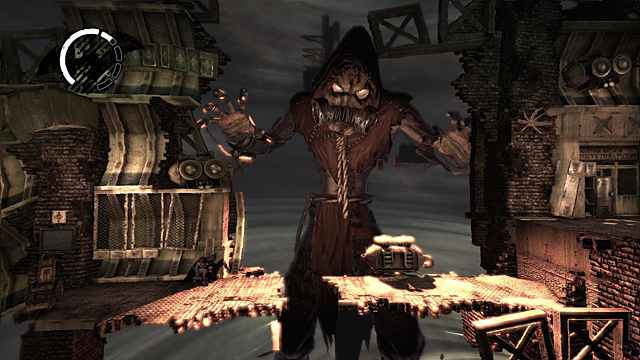 Batman: Arkham Asylum is one of those rare games that does everything right. The intuitive combat system makes it possible to engage multiple enemies at once, but players often have the option to avoid combat altogether. Punching criminals in the face is always a good time, but it's also fun to sneak behind enemies or get the drop on them from above. As the world's greatest detective, Batman has tons of gadgets at his disposal. You'll rappel with a grappling hook, neutralize enemies with remote batarangs, and analyze crime scenes to find evidence. The action, exploration, and stealth-based components are tied together beautifully by smart level design. I appreciate how varied the gameplay is, and the boss encounters are creative as well. Bane rips apart the walls and hurls them at you, but Scarecrow takes a cerebral approach that would be right at home in Silent Hill or Eternal Darkness. Arkham Asylum was only the second title developed by Rocksteady Studios, but it set a new bar for superhero games. I had a hard time choosing between Arkham Asylum and Arkham City, but I prefer the tightly-woven "Metroidvania" level design to the open-world flare of the sequel. You can't go wrong with either game though.
---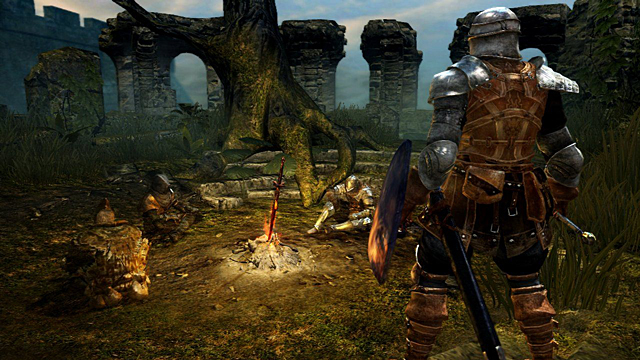 Dark Souls hearkens back to the kind of games that I played when I was younger. In an era dominated by quicktime events and safety nets, Dark Souls punishes players with powerful enemies and constant surprises. Skill and strategy are required at all times, and players will need quick reflexes and a lot of patience in order to proceed. The ability to learn from past mistakes is also paramount. Every battle can lead to death, but the trial-and-error gameplay creates a sense of accomplishment after you finally succeed. There are a lot of stats beneath the surface, but Dark Souls doesn't bog players down with numbers and keeps the emphasis on exploration for the most part. The large open-world is filled with hidden areas and optional bosses, and its deeply rooted lore makes you feel like you're uncovering secrets of a forgotten realm. Players aren't given specific directions and nobody is there to hold your hand throughout the adventure. This ultimately leads to a sense of discovery that could be likened to the first Zelda game. New secrets were still being discovered years after the game was released.
---
Random Lists