Although they're often presented as vehicles of fanservice, skirts have been worn since prehistoric times and were standard attire for men and women in ancient cultures around the globe. They likely rose to prominence due to their simplicity, and they're an easy way for someone to cover their lower body without restricting mobility. As fashion has evolved through the generations, so too has the context in which skirts are worn. They are deeply rooted in modern culture, and girls are often required to wear them as part of a uniform at school or at work. Although some skirts are appropriate for professional settings, other skirts are worn for the purpose of sex appeal. In either regard, a skirt can potentially say a lot about someone's personality. Gaming's best dresses have already been recognized elsewhere on this site, so this list will focus exclusively on stand-alone skirts.
---
---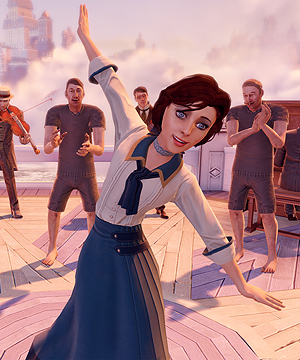 10
Elizabeth
Bioshock Infinite
Skirts can be a great way for a gal to show some leg, but there's nothing sexual about the outfit Elizabeth wears in the opening act of Bioshock Infinite. The game's artists aimed to create an outfit that was appropriate for the era and the girl, and they succeeded on both fronts. Elizabeth was forced to change into a corset after her initial dress was torn during her adventures, but I've always been partial to her high-waisted skirt and the innocence it represented. I often liken Elizabeth to a Disney Princess, and the similarities are especially apparent during a memorable scene in which she dances on the beach. She even spins around in a dramatic fashion to illustrate how carefree she is. Elizabeth maintained a childlike outlook on life, and she demonstrates her happiness by cheerfully twirling her skirt.
---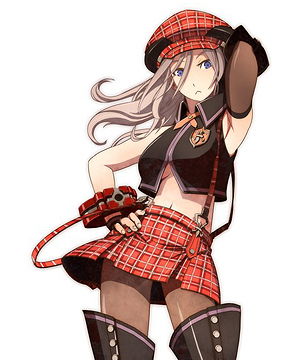 9
Alisa Illinichina Amiella
God Eater Series
God Eater is set in a future where the world has been mostly destroyed by monsters. To combat these mysterious creatures, a team of dedicated warriors known as God Eaters are assembled. Alisa Illinichina Amiella may not look like much of a warrior herself, but the Russian beauty has a tragic history that serves as a powerful motivating factor. She lacks combat experience and has to be temporarily removed from the battle front, but she shows incredible promise despite being an emotional wreck. Alisa's checkered skirt and matching newsboy cap is an outfit that could only be worn by a young woman. Most adults would look ridiculous if they dressed like she does, so her skirt serves as a constant reminder of her youth. Girls who dress like Alisa don't typically hang out in war zones.
---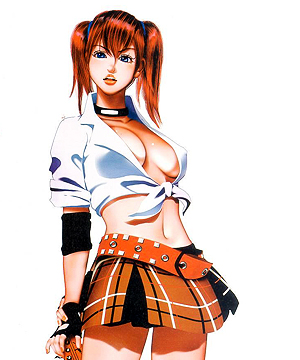 8
Rebecca Walsh
Rumble Roses Series
Rumble Roses is a wrestling game with an all-female cast. All of the women in the game have alter-egos, and Rebecca Walsh is no exception. "Candy Cane" is a punk rocker and the lead vocalist in an all-girl band. She's labeled as a misfit by society, but she has a pure heart. In fact, the reason why she got involved in pro wrestling was so she could win the prize money and save the orphanage where she was raised. Her alter-ego is an upbeat student who goes by the name Becky. Becky is a typical cheerleader for the most part, and cheerleading stunts are incorporated into many of her wrestling techniques. Whether she's acting as a pro wrestler, a cheerleader, a punk rocker, or a normal student, her skirts seem like a logical fashion choice. I'm surprised she's not also a figure skater in her spare time.
---
7
Athena Asamiya
Pschyo Soldier
There are two characters named Athena in the SNK pantheon. The first was a scantily-clad princess from a heavenly world who was defined by her warrior spirit. Athena Asamiya can be considered a modern-day counterpart to Princess Athena and is said to be one of her descendants. Although Athena Asamiya has phenomenal psychic power at her fingertips, she looks and behaves like a typical teenage girl. Athena Asamiya wore a sailor outfit during her first appearance in Psycho Soldier, and she's adopted this look in several King of Fighters games. SNK wasn't sure if her sailor outfit would appeal to fans outside of Japan, but it's the most logical clothing choice for her. Athena Asamiya is a schoolgirl and an idol singer, so it would be kind of weird if she wasn't wearing a skirt.
---
6
Asuka
Senran Kagura Series
Asuka's plaid skirt is typical for a high school student, but the academy she attends is anything but. Her grandfather was a legendary shinobi, and Asuka is enrolled in a prestigious ninja school that was named in his honor. Given her pedigree, it's only natural that she would have a strong sense of justice and tremendous hidden potential. Asuka is constantly on the move, so her skirt accents her movements in battle. It flutters when she runs or jumps in the air, and it makes all of her ninja moves look even more spectacular. I can't deny that fanservice plays a major role in the Senran Kagura series. No matter how noteworthy a skirt is, it's never more interesting than what's underneath. It's hard to look intimidating when your panties are on display, but that doesn't stop Asuka from trying.
---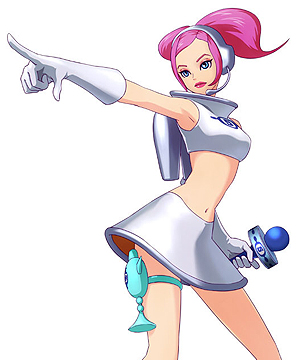 5
Ulala
Space Channel 5 Series
Although female reporters are often hired based on their appearance, it's pretty uncommon for them to dress like go-go dancers. Ulala is not an ordinary reporter, however. Space Channel 5 takes place hundreds of years in the future in an era where interstellar television stations fight for ratings. When Ulala's station is invaded by aliens, the funky reporter is sent in to report the news and rescue hostages. Ulala moves to the rhythm as she attempts to stop the enemy, and her colorful skirts help accentuate her groovy dance moves. Dancing might seem like a triviality, but Ulala wishes to become the number one reporter in the entire galaxy and her dance-offs have a huge impact on her ratings. There are other dancing reporters vying for her position, so Ulala obviously isn't going to start wearing pantsuits to work.
---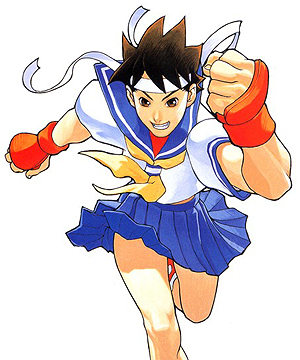 4
Sakura
Street Fighter Series
There's nothing especially noteworthy about a schoolgirl who wears a skirt, but you can tell a lot about a person by the clothes they wear. Sakura is an aspiring martial artists who idolizes Ryu and follows him around the globe. Ryu wears a tattered white karate gi with the sleeves torn off, and you can safely assume that he's gone through extensive training. Sakura, in contrast, dresses like a typical high school student. You can tell that she's young and inexperienced by the way she dresses. Sakura does her best to emulate Ryu's fighting style, but her techniques are unrefined and she obviously has a lot to learn. Sakura isn't sexualized like other Street Fighter women are (she even wears modesty shorts under her skirt), so the main function of her sailor uniform is to remind us of her immaturity as a fighter.
---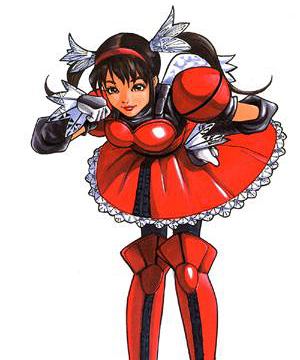 3
Candy
Fighting Vipers Series
Candy (who was originally known as Honey in Japan) is an aptly-named fashion student who is defined by her sweet personality. Social media was not really a thing when Fighting Vipers existed, so Candy had to enter a fighting tournament in order to get the word out about her custom fashion line. Her plastic fairy costume isn't practical attire for street fighting, however, and each part of her costume can be broken off in battle. It's not unusual for Candy to find herself stripped down to her underwear by the end of a fight! Her PVC skirt wasn't exactly conservative in the first place and many of her fighting moves require her to sit on her opponents' faces, so I'm assuming that Candy doesn't embarrass easily. Her skirt is neither practical nor durable, but Candy deserves credit for making it herself.
---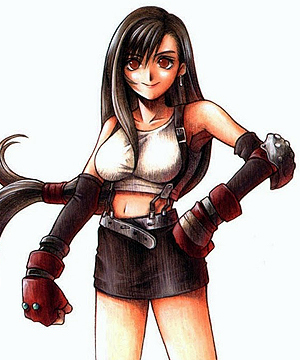 2
Tifa Lockhart
Final Fantasy VII
Tifa Lockhart is a martial arts expert who joins up with a resistance group to fight back against a tyrannical corporation. Her miniskirt and crop top combo might seem impractical at first, but the outfit makes perfect sense when you consider that she works as a barmaid. Women in her line of work often wear revealing clothing, so Tifa's outfit doesn't seem out of place at all. Although it's fair to say that her short skirt has contributed to her popularity, her enemies won't have time to admire her legs because they'll be too busy trying to protect themselves from her deadly kicks. Elaborate skirts are relatively common in Final Fantasy, but Tifa is a rad chick with a unique style. Her contemporary fashion speaks to her modern sensibilities and set a trend that future Final Fantasy heroines would follow.
---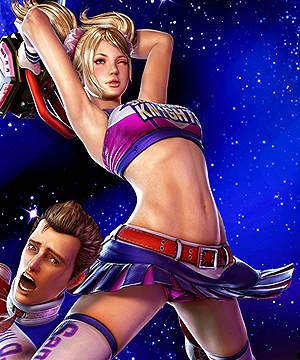 1
Juliet Starling
Lollipop Chainsaw
Juliet Starling is the captain of her school's cheerleading squad, so her skirt is basically a standard-issue uniform. Her skirt is ideal for riling up fans at sporting events, but it's an odd choice for fighting the undead. Rest assured, Juliet is the embodiment of fun whether she's cheering on the football team or tearing through zombies with a bedazzled chainsaw. If nothing else, her skirt highlights the absurdity of her situation by reminding us of her youth. It's fair to say that most ditzy teenage girls don't hunt zombies in their spare time! Juliet's pelvic region is prominently featured in Lollipop Chainsaw since the still-living head of her boyfriend is dangling off her belt like a fashion accessory. That said, her skirt would likely have been the center of attention in any scenario.
---
Random Lists