Gaming's greatest guest characters have already been discussed on this site, and we've also taken a look at the best crossover titles. Cameo appearances differ from either of these concepts, however. This list looks at situations where established characters are given small roles in other games. These appearances are not significant enough for them to be considered proper guest roles, and the characters aren't given enough screen time to affect on the game's narrative in a meaningful way. Cameo appearances are seldom advertised beforehand, and some of them are even hidden Easter eggs! There are no hard rules about what makes a good cameo appearance. Some characters fit perfectly into other franchises while other pairings are intentionally absurd, but the best cameos are always the ones you don't expect.
---
---
Snatcher follows an amnesiatic detective named Gillian Seed through the underbelly of a dystopian city as he attempts to track down artificial life forms called replicants snatchers. One of the most memorable locales from the game was a seedy strip club called Outer Heaven. The name of the club is an homage to a mercenary stronghold from the first Metal Gear game, so it's only appropriate that its patrons would masquerade as Konami characters. The pervy customers disguised themselves as aliens in the original version of the game, but Konami decided to get more meta on the Sega CD. Simon Belmont, Dracula, Goemon, Sparkster, and the commandos from Contra could all be seen in the bar, and the game made direct reference to the 20th century video games that they appeared in. (Gillian even went into a mini-rant about how annoying the stairs were in Castlevania!) I can't rank them any higher on this list since they're technically just disguised as Konami characters, but it was still nice to see so many familiar faces.
---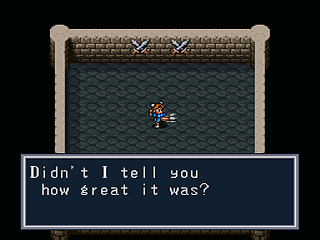 Breath of Fire is a traditional RPG with a medieval setting, but Capcom found a way to insert a contemporary character into the mix. During the adventure, you'll meet a magician who promises to make 100 GP disappear before your eyes. He does this by diverting your attention and then taking off with your money when your back is turned. If you decline to look the other way two times before finally agreeing to his proposition, you can catch a glimpse of Chun Li from Street Fighter II performing her trademark lightning kick. If you refuse his suggestion 25 times, Chun Li will be wearing her alternate red outfit! Being scammed out of a 100 GP is never fun, but it's a small price to pay to see the strongest woman in the world. Chun Li will also make an appearance in the game's ending if you manage to beat the final boss with the broken sword equipped. It's not an easy task, but I guess Chun Li don't want no scrubs.
---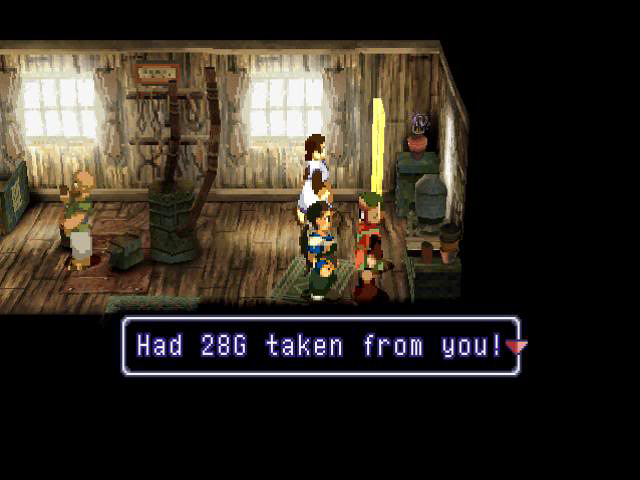 Chrono Trigger's resident genius has been justly recognized for her brilliant mind, but it's obvious that she buys into her own hype. The brainy inventor unlocked the secrets of time travel, but all she does in Xenogears is explain how "memory cubes" work. These artifacts are glorified save points, but Lucca promises to deliver a "brilliant, comprehensible and downright beautiful lecture" about them. If you agree to listen to her explanation, she'll make arrogant comments about your tiny brain and suggest that even a baby Dongarian Monkey could pick up what she's laying down. After Lucca rambles on for a couple minutes, she plainly calls herself a genius, challenges your manhood, and takes 28 bucks from you as a service fee. I was excited to see Lucca show up in the game, but I'm glad she wasn't given a bigger role. Who knows how much money she would have charged you to hear all of her lectures.
---
7
Mighty Bomb Jack
Tecmo Super Bowl
When it comes to gridiron football on the NES, there are really only two games that anyone talks about – Tecmo Bowl and Tecmo Super Bowl. That latter is notable for being the first game that was officially licensed by both the NFL and the NFLPA. In layman's terms, this meant that the game could feature real teams and real players. The gameplay was also refined in Tecmo Super Bowl, and new features like stat tracking, substitute players, and expanded playbooks made the game feel more complete than its predecessor. Much in the same way that the real Super Bowl puts on elaborate halftime shows to draw in casual fans, Tecmo Super Bowl also features halftime shows. You obviously aren't going to see Katy Perry or Janet Jackson's tits on the NES, but Tecmo's own Mighty Bomb Jack does his best to entertain us. I'm not sure why the high-jumping superhero decided to perform at a sporting event, but I'm guessing a wheelbarrow full of money was involved. Although Jack was the star of his own games, his appearance in Tecmo Super Bowl was probably seen by more people.
---
6
Professor Hector
Kirby's Dream Land 3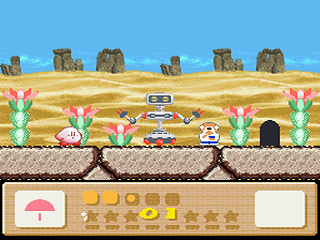 Nintendo's Robotic Operating Buddy was a toy robot that could actually play games... sort of. After receiving commands via light flashes from the TV screen, R.O.B. would start to move and his actions would eventually lead to a button being pressed on his NES control pad. R.O.B. had a short lifespan and was only compatible with two games, but the unusual accessory helped Nintendo convince retailers to carry the NES after the console market crashed in the mid '80s. Neither of R.O.B.'s games were very good and he probably would have been lost to the annuls of time if it wasn't for all of his cameo appearances. R.O.B. has made appearances in several games and is sometimes even featured as a playable character. Professor Hector, in contrast, has barely been seen since he appeared in the original R.O.B.-compatible games. In Kirby's Dream Land 3, Hector made a surprise appearance and enlisted Kirby's help to locate pieces of R.O.B. so he could be reassembled. This was one of the few times that Hector and R.O.B. were seen together on screen, and it was heartwarming to see how much the professor cared about his robot buddy.
---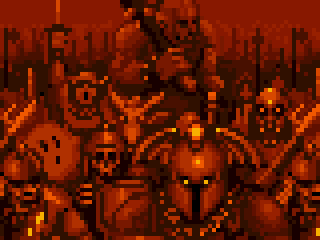 Arcana is a dungeon-crawling RPG that draws heavily from The Lord of the Rings. The game includes your usual assortment of wizards and warriors, but you'll probably notice a familiar face if you watch the intro closely. As the history of the ancient lands are being relayed to the player, an evil army is shown on the screen. This group is mostly comprised of heavily-armed monsters, but Kirby can clearly be seen among them. Kirby stands out in the crowd since his design is so much more simplistic than the battle-hungry soldiers that surround him. Arcana hit Japanese store shelves exactly one month before the first Kirby's Dream Land, but both games were developed by HAL Laboratory. When you consider that HAL Laboratory is famous for sneaking cameos into their games, it's completely reasonable to assume that the unidentified featureless character from Arcana is a deliberate reference to the roly-poly fella from Dream Land. This cameo appearance is retroactive and unverified, but I'll trust my own eyes on this one.
---
4
Yar
E.T. the Extra-Terrestrial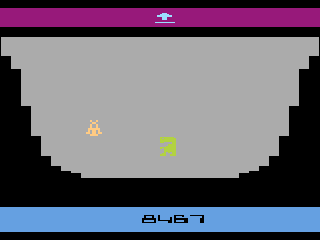 E.T. the Extra-Terrestrial for the Atari 2600 is almost universally regarded as one of the worst video games ever created. It was rushed to market after only six weeks of development time, so no one should have been surprised by the quality of the game (or lack thereof). I think people generally exaggerate how bad the game was, but there's no denying that it was a monotonous, convoluted mess and an insult to the classic Spielberg film it was based on. The game was developed by Howard Scott Warshaw, who had seen prior success with Yars' Revenge. (Incidentally, Yars' Revenge was heralded as one of the best games on the Atari 2600, which has promoted Warshaw to proclaim himself as "having the greatest range of any game designer in history.") If players locate a secret flower in E.T. after collecting enough Reese's Pieces and telephone parts, the flower will transform into the titular insect creature from Yars' Revenge and fly away. The game also featured a cameo from Indiana Jones, but this list is more focused on gaming characters. In any regard, the Yars' appearance in E.T. deserves a mention on this list for being one of the first hidden cameos in the history of gaming, and I'm comfortable in describing it as the best thing about the game. In most cases, a surprising cameo is like the cherry on the top of a piece of cake. In the case of E.T., it's more akin to a cherry on the top of a piece of shit.
---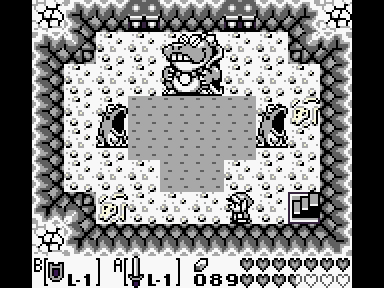 Link's Awakening was filled to the brim with cameos from other Nintendo games, and its fantastical setting gave the developers freedom to include anyone they wanted without worrying about how they fit into the Zelda lore. Over a dozen characters from the Mario series can be seen in the game, and there are also references to Kirby, SimCity, and an obscure RPG that was never released outside of Japan. The cameo from Mamu resonated with me for a couple of reasons. For the uninitiated, Mamu was the last boss in Doki Doki Panic. When the game was rebranded as Super Mario Bros. 2 for the North American market, Mamu's name was changed to Wart. Many of the cameos in Link's Awakening seem completely random, but Mamu was perfect fit for Link's Awakening since Super Mario Bros. 2 also took place in a dream world. Mamu's appearance in Link's Awakening also happens to be one of his only appearances in any game. He's never been invited to race go-karts or play board games with Mario, and it's unclear if he even exists outside of dreams. This ultimately makes his Link's Awakening cameo seem more significant.
---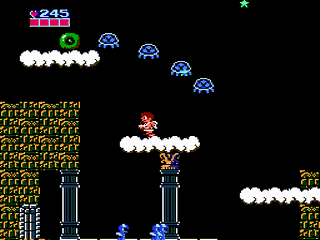 As an intergalactic bounty hunter, Samus Aran really gets around. She's been featured in every Super Smash Bros. game, she made a surprise appearance in Galactic Pinball, and she has had cameos in Tetris, Super Mario RPG, and Kirby's Dream Land 3. The eponymous Metroids are not nearly as famous as the woman who opposes them, but they had a memorable cameo in Kid Icarus mere months after the first Metroid game was released in 1986. The North American instruction booklet for Kid Icarus described them as mysterious floating creatures of unknown origin, and it was further suggested that they might be from another world. The Kid Icarus iterations were noticeably smaller than the life-sucking creatures from Metroid, however, and they were explicitly referred to as Komayto rather than Metroids. This name is not entirely random. In Japanese, "ko" is a prefix used to establish that an animal is a child. (A cat would be called neko while a kitten would be called koneko.) At the same time, Metroid's Japanese title (メトロイド) could be romanized as Metoroido. Kometoroido (baby Metroid) could obviously be abbreviated as kometo, which could be pronounced as komayto. In other words, Komayto is a just another way of saying baby Metroid. Regardless of what you want to call them, its patently clear that the nasty jellyfish monsters Pit encounters in Angel Land are the same life-sucking monsters that Samus Aran hunts.
---
1
The Interceptor
Double Dragon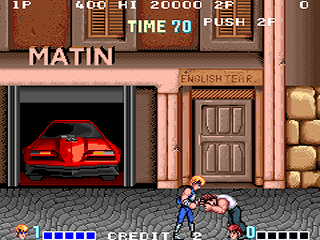 In the strictest sense, I'm not sure if inanimate objects should technically be eligible for this list. That said, there is no doubt that the car is the true star of Road Blaster. Data East's 1985 arcade game used LaserDisc technology to display animated FMV sequences of high-speed chases and vehicular combat. The Interceptor is basically a knockoff Firebird Trans Am, but it can be easily identified by its exposed supercharger and distinct red-and-black color scheme. Three years later, the exact same car could be seen in the garage during the opening moments of Double Dragon. Some will insist that it's merely a coincidence and others will point out that Road Blaster and Double Dragon were made by different companies. On that point, it should be noted that the games were actually directed by the same person. After Road Blaster was released, Yoshihisa Kishimoto left Data East to join Technos. When you examine the evidence, it would be unreasonable to suggest that the car from Double Dragon wasn't an intentional reference to Kishimoto's past work.
---
Random Lists