For the uninitiated, spinoffs are new products or franchises that are derived from existing works. In some cases, a spinoff can allow developers and producers an opportunity to better explore certain characters or settings. At the same time, creating a spinoff to a popular franchise often brings a built-in audience and helps mitigate the risks associated with creating a new IP. This list looks at the most noteworthy spinoffs in gaming history. For the most part, I chose to recognize games that fell into different genres than the games that they were based on, so games that could be described as sequels (like Mega Man X) or classified as part of the mainline series (like Metroid Prime) were not considered. Crossover games like Marvel vs. Capcom or Hyrule Warriors were not counted as spinoffs either. Keep in mind that "best spinoff" and "best game" are completely different things, so don't get too upset with the specific order of the list.
---
---
10
Dead or Alive Xtreme Beach Volleyball
2003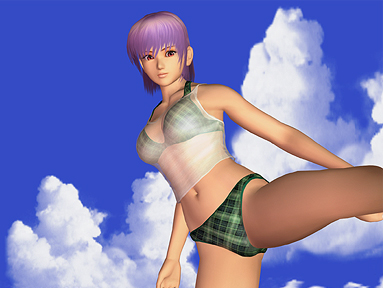 A lot of people will question how I could possibly mention Dead or Alive Xtreme on this list over the likes of Kirby's Dream Course or Halo Wars. Dead of Alive Xtreme isn't necessarily better than either of those games, but it plays to its demographic and does exactly what it was intended to do. Sex appeal has always been a big part of the Dead or Alive franchise, and Dead or Alive Xtreme Beach Volleyball and its sequels do a great job of capturing this. The first Dead or Alive Xtreme was presented as a beach volleyball game, but it was really just an excuse to dress beautiful girls up in skimpy swimsuits. New beach-related activities were added in subsequent games (including the infamous "butt battle"), but the option to watch the girls perform pole dances in the casino made it all-but-impossible to deny the reason for the game's existence. The series is all about hot girls and jiggle physics. Dead or Alive Xtreme has been described as sexist (perhaps rightfully so) and I've seen it mentioned as one of the worst spinoffs ever, but I maintain that it's a great example of a video game developer giving their fans exactly what they want.
---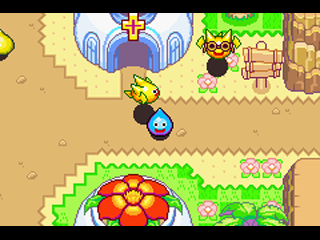 Slimes have long been the de facto mascots of the Dragon Quest series, and they were even recognized as the best gaming minions of all time on this very site. Given their notoriety and vast merchandising appeal, it somehow seems appropriate that they would eventually star in their own game. The Rocket Slime games are filled to the brim with references to other Dragon Quest games, but the play mechanics are completely their own. The gameplay mostly consists of exploring the world and launching yourself at your enemies. The games only require the use of the d-pad and a single button, but it's simplicity at its finest. The Final Fantasy series is well-known for constantly reinventing itself, but Dragon Quest has retained its high fantasy themes since the very beginning. Since the play mechanics in the mainline Dragon Quest games don't tend to change very often, spinoffs like Rocket Slime almost seem like a necessity.
---
8
The Typing of the Dead
1999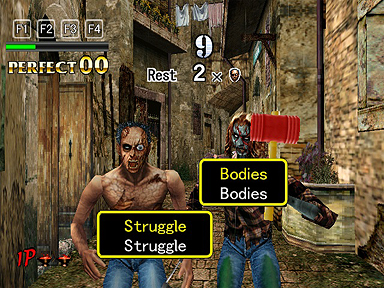 The Typing of the Dead is a modified version of The House of the Dead 2. In the latter game, players were guided through levels on invisible rails and used light guns to take down onslaughts of zombies. The Typing of the Dead follows the same plot, but instead of using light guns to neutralize the zombies, players use standard QWERTY keyboards to defeat them. As the zombies appear on screen, they are accompanied by text boxes containing various words or phrases. By typing the word(s) correctly, the player will be able to keep the zombies at bay. Naturally, the length and complexity of the phrases increases as the game progresses. The game was released in the arcades in 1999 with a special cabinet containing two keyboards. Versions of the game were subsequently released for the Dreamcast, PC, and PlayStation 2. It's hard to believe that a standard light gun game could lend itself so well to an educational title If the threat of being eaten by zombies doesn't motivate you to type faster, nothing well. I bet Mavis Beacon wishes she'd though of using zombies as a teaching tool.
---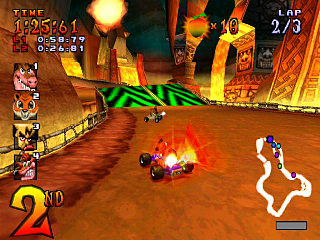 Crash Team Racing bears a striking resemblance to Super Mario Kart, and this is by design. The weapons, shortcuts, speed boosts, power slides, and battle mode all feel remarkably familiar. It's not as though Crash Team Racing stole everything from the Mario Kart series, though. It also shamelessly lifted elements from Diddy Kong Racing! The adventure mode, special challenge levels, unlockable characters, and boss battles are all accompanied by a sense of déjà vu. In fairness, Crash Team Racing introduces a few new gameplay elements. For example, pushing the hop button after going over a jump will earn you more air-time and will result in a turbo boost when you land. It may not offer a lot in the name of innovation, but it's one of the best-looking PlayStation games and possibly the best four-player game on the console. It was also the final Crash title developed by Naughty Dog, and it still feels like the last "true" Crash game in many regards.
---
6
Final Fantasy Tactics
1997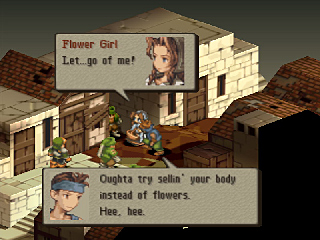 In some ways, Final Fantasy Tactics did a better job at being Final Fantasy than Final Fantasy VII did. Longtime fans of the series rejoiced at the sight of dragons, castles, and wizards with pointy hats. Despite its throwbacks to earlier Final Fantasy games, Tactics is not a traditional RPG. In contrast to typical RPGs, the massive battles in Tactics take place on isometric fields where character movement is governed by a grid-based system. Overpowering your enemies is not enough, and strategy is essential to victory. Most of the strategy involves the customization of your party. With 20 job classes to choose from and over 400 abilities to learn, the character creation system is highly sophisticated. The plot is somewhat nonsensical and unnecessarily complicated, but the intricacies of the job class system will take countless hours to fully explore. Square has never been afraid to milk the Final Fantasy franchise, but none of its spinoffs are held in higher regard than Final Fantasy Tactics.
---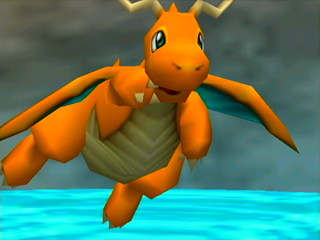 Pokémon Snap wasn't the console-based Pokémon adventure that fans were hoping for, but it was still a fun and entertaining take on the Pokémon formula. Mainline Pokémon games challenge players to physically catch as many Pokémon as they can, but Pokémon Snap merely challenges players to capture them on film. The game is an on-rails shooter that could be likened to a peaceful safari or a relaxed theme park ride. In order to snap pictures of wild Pokémon, you'll need to examine your surroundings thoroughly and occasionally flush them out of hiding with food or music. You can also throw objects at them in order to grab their attention. Pokémon Snap doesn't have a lot of depth and it was a relatively short journey, but the play mechanics were innovative and the experience was fresh. The Pokémon branding has been used on a number of sub-par games over the years, but Pokémon Snap is anything but a lazy cash-in. Few games in the series have made the Pokémon feel more alive.
---
4
Oddword: Stranger's Wrath
2005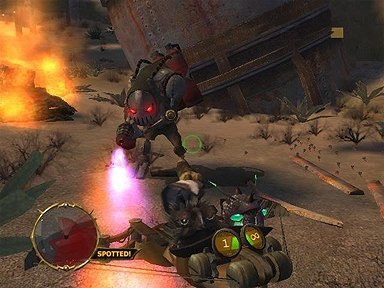 The first two Oddworld games were cinematic platformers that emphasized puzzles and communication. They were critically acclaimed and highly regarded for their surreal characters and bizarre sense of humor. The third game in the series brought the franchise into the third dimension, but it was still built around the same basic concepts that its 2D predecessors used. Stranger's Wrath retained a lot of the humor and charm, but the gameplay was a radical departure from previous Oddworld games. Platforming, puzzles, and communication still played a role, but the game also implemented elements from first-person shooters. For better or worse, the popularity of platforming games was on the decline in 2005 while first-person shooters were dominating the market. Rest assured, the FPS-inspired mechanics in Stranger's Wrath were brilliant and worked well within the framework of the Oddworld universe. Oddworld Inhabitants seemed to make all the right moves with Stranger's Wrath, but it was largely ignored by the gaming masses.
---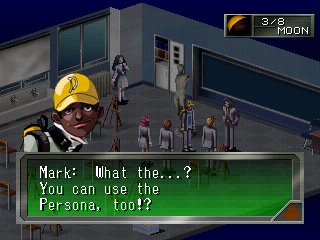 Digital Devil Story: Megami Tensei began as a trilogy of sci-fi/horror novels in the early '80s, and the first video game in the series was released on the Famicom in 1987. Digital Devil Story: Megami Tensei put a strong emphasis on dungeon crawling and focused heavily on demons. These aspects defined the franchise as a whole, and the Megami Tensei franchise has spawned over 40 games thus far. Although Persona shares common themes with other MegaTen games, it puts a greater focuses on interpersonal relationships and psychology. The Persona games use a high school setting and combine elements of RPGs and social sims. You'll spend time crawling dungeons and fighting demons, but you'll also be encouraged to hang out with other characters and establish social links. MegaTen has amassed a sizable cult following, and Persona is easily the largest and most popular spinoff from the franchise. Persona was the first MegaTen RPG to be released outside of Japan and has spawned numerous spinoffs itself.
---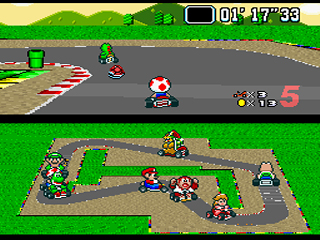 It would be easy to make a list consisting entirely of Mario spinoffs. Super Mario Bros. was a spinoff to Mario Bros., and Mario Bros. itself was a spinoff to Donkey Kong. Over the years, we've seen Mario-branded puzzle games, party games, sports games, and RPGs. The Mario series has also given birth to several franchises which have been given spinoffs of their own. (Take the WarioWare games as an example.) I'm recognizing Super Mario Kart on this list for a number of reasons. Super Mario Bros. is the most significant spinoff in the series, but it was built upon mechanics that had been introduced in earlier games. In contrast, Super Mario Kart was a brand new experience and basically created the entire kart racing sub-genre. The Mario Kart franchise has now grown to the point where it rivals the popularity of mainline Super Mario Bros. games. Mario Kart Wii, for instance, sold over 36 million copies worldwide and was second only to Wii Sports as the best selling game of its generation. The accessibility and universal appeal of Mario Kart fits perfectly with Nintendo's philosophies of community and fun.
---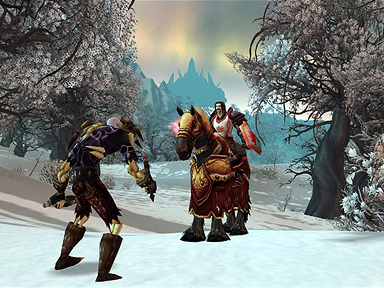 Warcraft was one of the first successful real-time strategy games and helped define the genre in the early '90s. Subsequent Warcraft games expanded upon the RTS formula and were well-received, but they didn't come close to the success that World of Warcraft saw. World of Warcraft is set in the same fictional world that earlier Warcraft games were, but the universe feels more realized since players have more opportunities to interact with their surroundings and other characters. One of the main reasons why the game was so successful was because it streamlined the MMORPG genre and made it more accessible to new players. The quests were straightforward, the play mechanics were easy to understand, and the penalties for dying were significantly reduced compared to other games in the genre. Casual gamers could jump in without feeling overwhelmed, and Blizzard did a good job at making sure the game would always be welcoming to new players. More than 100 million World of Warcraft accounts have been created since the game's release in 2004, and there were 12 million concurrent subscribers at its peak in 2012. The game has generated over 10 billion dollars, and stands as the highest grossing game of all time.
---
Random Lists