Widely recognized for its signature rubber keyboard and compact size, the ZX Spectrum was one of the most popular computers across Europe during the 1980s. Its games were commonly distributed through magazines and books, as players could code games by hand through the Sinclair BASIC program. The games could then be saved onto a cassette tape for later use. Alternatively, players could simply record special audio broadcasts onto cassette tapes in order to obtain new games. A number of prominent game developers cut their teeth on the ZX Spectrum, and it had a significant impact on British game design in general. Some people even credit it as the machine that launched the UK IT industry.
---
---
10
Fantasy World Dizzy
1989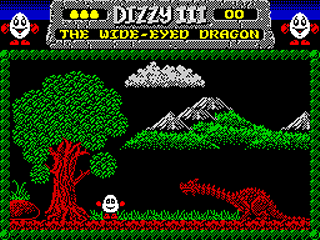 There were many recurring characters on the ZX Spectrum, but Dizzy is probably the closest thing the system had to a mascot. The loveable egg-shaped explorer starred in a handful of eggcelent games that combined platforming and puzzle solving, but I'm impartial to the third game in the series. Fantasy World Dizzy lets players explore an interesting universe filled with beanstalks, dragons, and hidden treasures at every turn. I couldn't help but be impressed by how varied the game's environments were. Whether you were jumping around from cloud to cloud or exploring underground sections with flipped gravity mechanics, the game had a way of keeping things interesting. The game makes great use of its fantasy theme, and the introduction of Dizzy's "Yolkfolk" brethern gave the franchise even more personality. The soundtracks in Fantasy World Dizzy is also worth mentioning. Most games on the Spectrum didn't even have music, so it's always appreciated when a game features an infectious soundtrack.
---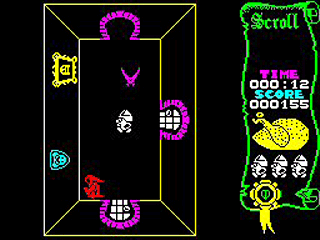 No developer is more closely associated with the ZX Spectrum than Ultimate Play the Game. They are perhaps best-known for the seminal Sabreman series and their revolutionary "Filmation" engine, but Atic Atac stands as their most underrated game. As an action/adventure game with an overhead perspective, Atic Atac could be likened to Atari's Adventure and Nintendo's Zelda. The action is lot faster in Atic Atac, however. Players are given the choice of one of three characters (wizard, knight, and serf) and an objective of finding a golden key that's hidden somewhere within an enormous castle. The game's mechanics primarily consist of fighting monsters and unlocking doors, but movement through the castle will be different in accordance to the character you choose since each character has access to a different secret passage. The castle itself is somewhat cryptic, but its rooms are filled with little details that include everything from animal skin rugs to skeletons that are shackled against walls. The variation from one room to the next allows the game to walk the line between confusing and frustrating without ever landing on the wrong side.
---
Prior to the formation of Rareware in the late 1980s, Chris and Tim Stamper helmed a software development house called Ultimate Play the Game. Jetpac was the first game released by their company and it was a smashing success from both a critical and commercial and standpoint. Its sequel arrived within a year and was even better than its predecessor. In Lunar Jetman, players assume the role of an astronaut and are tasked with destroying alien bases on the moon. Players can move around slowly on foot, but they have two primary methods of transportation. The jetpack allows them to take to the skies in order to bomb the alien bases into oblivion. Its mounted lasers also prove useful against the waves of flying aliens. The jetpack has limited fuel, however, and must be topped up regularly. When they're not busy zipping around with their jetpack, players can also drive around in a lunar rover. The player is almost invincible when riding in the rover, but the vehicle has its limitations too. The rover can only negotiate perfectly flat surfaces, so it's sometimes necessary to find bridging kits to fill in craters. Players can also upgrade the rover with canons, bombs, and even a teleporter! Whether you're flying around with your jetpack or traversing the lunar surface in your rover, Lunar Jetman is out of this world! Get it? Because it's on the moon?
---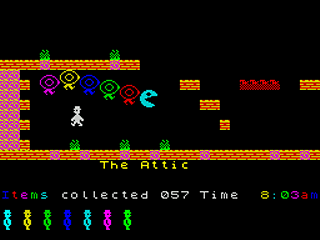 Manic Miner was the perfect game for anyone looking for something completely different. Instead of trying to come up with sensible characters and scenarios, the game was intentionally absurd. The game's premise borrowed from Miner 2049er and tasked players with obtaining specific items in a mine before their oxygen supply was depleted. It was a straightforward platformer, but the creatures that populated the mines were anything but. You'd fight ostriches, giant telephone monsters, and... enemy toilets? There was something new to see on every screen. When you died in the game, a giant foot would appear from the top of the screen and crush you in a Monty Python-esque fashion. Jet Set Willy is the sequel to Manic Miner and was arguably the most highly-anticipated game released on the Spectrum. The game follows the same basic premise and introduces more ridiculous enemies into the mix (including flying pigs.) Jet Set Willy is longer than its predecessor and puts more emphasis on exploration. Players can freely explore the game's vast 60-room mansion, so the game feels less linear than similar games from the era.
---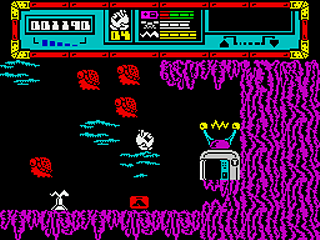 Starquake is a game that doesn't seem to get the attention it deserves. The game has something for everyone. It brilliantly combines platforming, action, and exploration together and is the closest thing Spectrum owners had to a Metroid-like adventure. Unlike most side-scrolling character-based games, you don't have the ability to jump in Starquake. Your character is able to create temporary platforms to increase his altitude, but the most efficient way to travel is with the use of flying platforms that can be located throughout the game. These platforms give players the freedom to fly in any direction they want to. The levels are also scattered with elevators and teleportation devices, and many doors require specific access cards to access. The game is one of the better-looking titles on the Spectrum and the characters are undeniably charming, but its the clever level designs that earn Starquake a position on this list.
---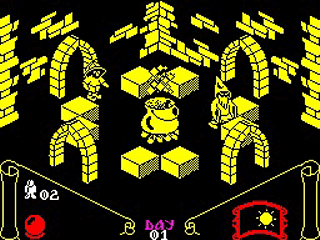 The third game in the Sabreman series, Knight Lore broke new ground with the introduction of Ultimate's "Filmation" engine which was based around isometric graphics. Edge magazine went so far as to describe it as "the greatest single advance in the history of computer games." Ridiculous hyperbole notwithstanding, Knight Lore was pretty ambitions for its era. The game stars an adventurer named Sabreman who journeys to a castle in search of a wizard who can cure his lycanthropy. As the days turn into night, Sabreman is hilariously transformed into a werewolf and becomes a target for the guards that occupy the castle. To break the curse, Sabreman must locate various items and deliver them to the aforementioned wizard. This is easier said than done, as the castle is filled with enemies and harzards. The isometric rooms also require players to perfect their platforming skills. If malevolent ghosts, beds of spikes, and disappearing platforms weren't enough, players are also engaged in a race against the clock. Sabreman will apparently become a werewolf forever if he doesn't find a cure within 40 days! The game is somewhat cryptic at times, but it's a lot of fun to explore the castle. Ultimately, Knight Lore was incredibly original and helped define the ZX Spectrum.
---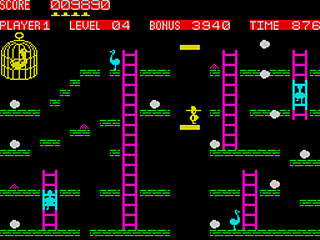 Chuckie Egg is a simple platformer that challenges players to navigate through oddly-designed henhouses in order to obtain eggs. The game contains over 40 stages that are made up of floating platforms, ladders, moving lifts, and more ladders. (Some stages also have ladders in them.) Platformers of the "climbing ladders" variety were common in the early '80s, and Chuckie Egg was one of the best in the genre. The stages end when a specific number of eggs are collected, but players are free to collect the eggs in any order they want. It's necessary to plan your moves out in advance if you want to succeed, but giant enemy birds wander around aimlessly and often force you to change your plans on the fly. The game never seems to slow down, and I really appreciate the frenzied pacing. Versions of Chuckie Egg were released on nearly every viable home computer in the early '80s, but the ZX Spectrum version was the first. Some ports of the game tried to emulate real physics, but the original physics are a better fit for the game since it's focus was always on speed and playability rather than realism.
---
Alien 8 is a platform game developed by Ultimate and the second game to make use of their isometric "Filmation" graphics engine. This engine was heralded as revolutionary when Knight Lore was released in 1984, and it was still a novel concept when Alien 8 hit store shelves the following year. During the game, players take control of a charming robot and are given the responsibility of ensuring the safety of cryogenically frozen passengers on a spaceship. After the ship is attacked, it's the robot's duty to search the ship and repair the damaged life support systems. Exploration is required to navigate through the maze-like ship, and you'll spend a lot of time jumping from one platform to another. One of the most noteworthy gameplay mechanics is the ability to take control of other robots. This is especially handy when you have to sweep a room for mines. Alien 8 had a lot of expectations placed on it, but it lived up to the hype and was even better than Knight Lore in many ways. It's unfortunate that the game wasn't included on Rare Replay, as its one of the companies best efforts from their Ultimate days.
---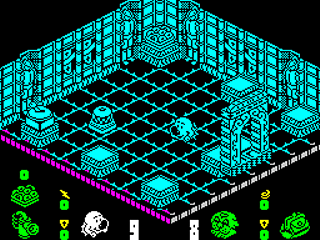 Drawing heavy inspiration from Ultimate's Filmation games, Head Over Heels is an isometric adventure game from Ocean Software. The game's most innovative feature is the ability for players to control two different characters. "Heads" have superior jumping abilities and can fire projectiles, while "Heels" move faster and can carry items. There are more than 300 rooms to explore in the game, and many will require the abilities of both Heads and Heels. Some of the puzzles are surprisingly complex, and the rooms are filled with interactive set pieces like trampolines, conveyor belts, and helicopter platforms. At various points in the game, you'll activate levers to disable robots, reposition platforms to create makeshift staircases, and use teleporters to solve spatial puzzles. Head Over Heels didn't have the same impact as Ultimate's Filmation games, but the it was longer, the puzzles were more complex, and the ability to control two characters added a lot of depth. If it wasn't for the repetitive bursts of fanfare-like music that play ad nauseam every time you enter a new room, Head Over Heels might have even earned the top spot on this list.
---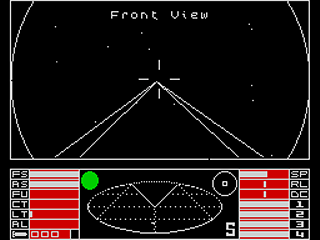 With its innovative open-world gameplay and revolutionary wireframe graphics, Elite catapaulted Britain to the forefront of computer game design. Elite allows players to trade commodities with alien races, engage space pirates in interstellar dog fights, and meticulously dock ships into vast space stations before traveling to distant galaxies. It's part shooter, part flight sim, and part intergalactic trading game. Credits can be earned through trade, piracy, asteroid mining, bounty hunting, or military missions; and funds can be used to upgrade your ship with better weapons, increased cargo capacity, extra energy banks, and automated docking systems. In an era where many games could be completed in a matter of minutes, Elite could occupy gamers for several weeks at a time. The game featured eight galaxies and over 2,000 planets to explore! There are a few minor differences between the original BBC Micro version of Elite and the ZX Spectrum port, but the visual differences are fairly negligible in the long run. The Spectrum features an entirely new mission, however, and is considered by many to be the best version of the game.
---
Random Lists