The Sharp X1 is a line of 8-bit computers that was first introduced in 1982. Sharp tried to keep the system relevant with the release of the Sharp X1 turbo in 1984 and the Sharp X1 turbo Z in 1986, but it was never able to gain as much traction as other Japanese computers like NEC's PC-8800 series or the MSX. As a result, there simply weren't a lot of high-profile games released for the system. The X1 was home to some historically significant games, however. You could play the first Valis and Thunderforce games on the X1, Hudson released a special version of Super Mario Bros., and Macadamia Soft made their mark with the controversial release of 177. These games are all noteworthy for one reason or another, but they're not especially great. There weren't many system-defining games released for the X1, but it did see a number of great arcade ports and multiplatform titles that are worth mentioning. It's not easy to find information about the Sharp X1 online, and tracking down games can be quite difficult. It's almost as though everyone stopped talking about the system after it was succeeded by the Sharp X68000 in 1987. Making this list was a learning experience, but I thought the Sharp X1 deserved a closer look.
---
---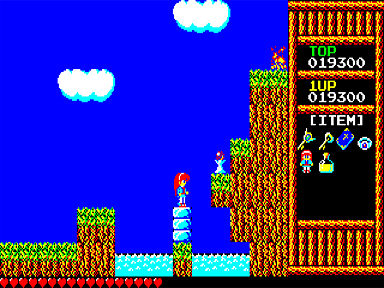 Sofia follows the exploits of a young girl who was transported to another dimension after she accidentally touched a magic crystal. Hairband-wearing heroines were surprisingly common in the 1980s, but Sofia stood out for how ordinary she was. She isn't much of a fighter, so most of her challenges involve memorization, patience, and perfectly-timed jumps. The odds are stacked against the poor girl, and she's at the mercy of her enemies at the beginning of the game. As she progresses, she'll find various items that will help her along the way. Apples will increase her health, antidotes will protect against poison mushrooms, and a special bracelet will allow her to walk through water unharmed. Sofia differs from many of its contemporaries in that the screen doesn't scroll with the player's character. This creates a dynamic where each new screen feels like a unique set of challenges. On that note, Sofia is a surprisingly difficult game despite what the colorful characters and catchy music might suggest.
---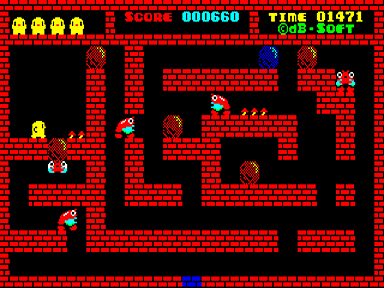 The Sharp X1 didn't have a lot of great exclusives, and most of its games were ported from other platforms. Flappy stands out on this list since it was released on the Sharp X1 before any other system. The puzzle game from dB-Soft could be described as a marriage of Boulder Dash and Sokoban, and the gameplay centers around a mole-like creature named Flappy who pushes giant rocks around. Wandering enemies can be stymied with sleeping mushrooms or crushed with giant rocks, but Flappy can also be killed by his environment if he isn't careful. He's obviously strong, but that doesn't make him immune to falling boulders. Flappy spawned a number of sequels on various systems, but the series had little exposure outside of Japan and the franchise is all-but-guaranteed to live in obscurity. (If you try to research the game, you'll likely be inundated with results pertaining to an infamous 2013 mobile game called Flappy Bird.) It might not be the most exciting entry on this list, but Flappy is a fun little game that works well with the limitations of the Sharp X1.
---
Mappy is a colorful platformer with a Looney Tunes vibe. The game hit the arcades in 1983 and was ported to nearly a dozen platforms, but most home versions were released exclusively in Japan. As a result, the game doesn't always get the attention it deserves. The goal of the game is to guide a mouse named Mappy through a cat-infested mansion in an effort to retrieve stolen goods. (Apparently, you could make a lot of money in the 1980s by selling stolen microwaves and Mona Lisa forgeries.) The mansion is five stories high, so Mappy has to take advantage of trampolines in order to move around the premises. Bouncing around in an empty house doesn't sound very challenging, but the aforementioned cats will fuck your shit up if you're not careful. Mappy is larger than his feline foes and has the full authority of the micro police force behind him, but he still resorts to cheap tricks like slamming doors in his enemies' faces. I can't help but think he could have avoided a lot of trouble if he had simply shown a warrant instead of barging into a house unannounced.
---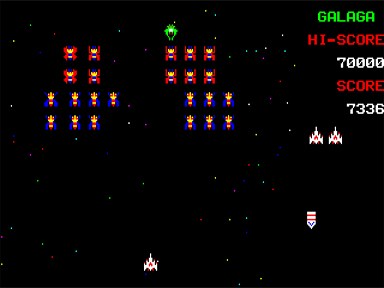 There's not a lot to say about Galaga that hasn't already been said elsewhere on this site. The 1981 sequel to Galaxian added many innovations to the classic Space Invaders formula, and it stands as one of my favorite games from the golden age of the arcades. For those who are unfamiliar with the game (somehow), the object is to shoot down swarms of insect-like aliens from the safety of a starfighter. The enemies fly in groups and fire bullets from afar, but they will occasionally break formation and attempt to crash into the player's ship. They'll also attempt to capture you with a tractor beam. If players manage to rescue a captured ship, they can effectively double their firepower. Console versions of Galaga were hit-or-miss for the most part and were sometimes plagued by slowdown, but the Sharp X1 port was remarkably faithful to the arcade original. Although the Sharp X1 was home to modern shooters like Super Laydock and Gradius, it's hard to beat Galaga in terms of replay value.
---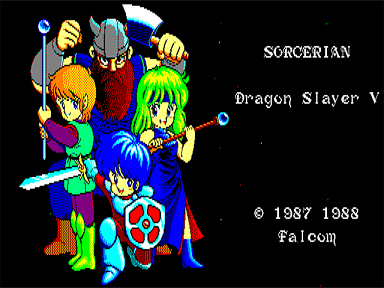 The fifth game in the Dragon Slayer series, Sorcerian is an action RPG with a high level of customization. When creating a character, players have four classes to choose from. After deciding between an elf, a dwarf, a fighter, or a wizard, players can further customize their character by assigning them an occupation. There are over 60 occupations to choose from – ranging from clown to midwife – and the starting stats and equipment limitations vary between them. When the game finally starts, you'll have the freedom to play through the game's 15 quests in any order you want. You can also replay scenarios to get more loot, but the game discourages you from dragging your heels since the characters age during the course of the adventure. Each race has its own life expectancy, and they will eventually die of old age. You'll run across simple puzzles throughout the course of the game, but most of your time will be spent exploring and fighting. The combat isn't especially deep, but it's charming how players can control four party members at the same time. I had a lot of fun mindlessly running back and forth and watching my party members follow my every move. Sorcerian doesn't quite live up to its potential, but its a unique experience. It also features some of the best music ever heard on the Sharp X1. You should make a point to listen to the soundtrack even if you don't want to play the game.
---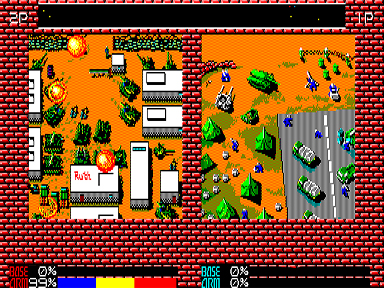 Herzog is a tactical shooter from Technosoft that featured real-time stratgegy elements years before the RTS genre had been properly established. The game puts players in control of a massive hovering robot and gives them the goal of destroying the enemy base. To that end, players can build or recruit new units and deploy them on the battlefield as they see fit. Different units have different purposes, so you'll have to manage your resources wisely. Tanks can dish out more damage than soldiers, for example, but they're more expensive and take longer to acquire. Players can also deploy fast-moving motorcycles or invest in specialized weaponry to help them destroy opposing forces. Up to 50 units can be deployed at any given time, and a lot of the strategy revolves around where you decide to deploy them. Herzog can be played against a computer opponent, but the split-screen two-player mode is where the game truly shines. Herzog was soon overshadowed by its groundbreaking sequel, but it was an ambitious game in its own right and it deserves to be remembered as one of the best strategy games of its era.
---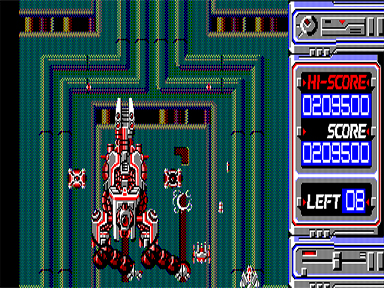 Revolty II is a vertically-scrolling shoot 'em up played from a bird's eye view. Players have to contend with waves of airborne fighters as they progress through the stage, but they also have to be mindful of targets on the ground. The mechanics of battling enemies on multiple plains feels remarkably similar to Namco's Xevious, and the environments are similar in both games as well. Although a version of Xevious was released on the Sharp X1, Revolty II was tailor-made for the system and used new techniques to push the X1 hardware. The scrolling was smoother, the gameplay was faster, and the music was vastly superior. The game also featured cool cutscenes, imposing boss battles, and a few innovative play mechanics. One of the more notable aspects about the game was the ability to steal satellite aircraft from your enemies and use them like options in Gradius. From a technical perspective, you're not likely to find a more impressive game on the Sharp X1. By 1988, Sharp's focus was on their newly-minted X68000, but Revolty II shows that you can teach an old dog new tricks.
---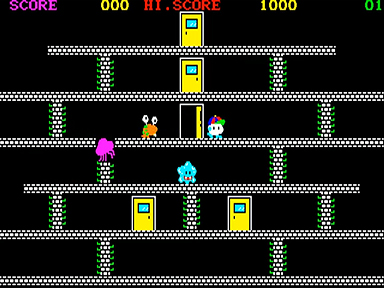 Door Door is a simple platformer with a heavy emphasis on puzzles. It's known for its cast of colorful characters, but the gameplay is more sophisticated than its whimsical exterior might suggest. Players assume the role of a spherical creature named Chun and are tasked with locking hostile aliens behind doors. The four aliens each have their own way of pursuing the player, and you'll have to familiarize yourself with their patterns in order to succeed. The objectives are fairly straightforward in the early goings, but the complexity ramps up as you proceed through the stages. For instance, one level requires you to lead an alien across a series of platforms by forcing him to jump at the precise times. Other levels will require you to group your adversaries together and trap multiple aliens behind a single door. By the time you reach the 50th stage, you'll have no room for error and will have to demonstrate complete mastery over the game's mechanics. Door Door was never released outside of Japan, but it has an important legacy as the first title published by Enix.
---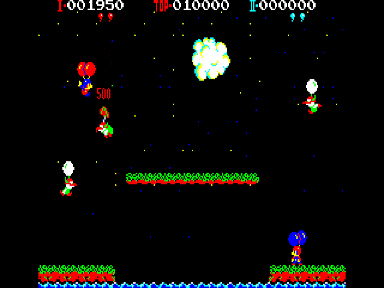 Hudson and Nintendo were the best of friends in the 1980s. Hudson was the first third-party to release a game on the Famicom and had licence to release several of Nintendo's own games on Japanese PCs – including a modified version of Super Mario Bros.. Of the seven Nintendo games that were released on the Sharp X1 (courtesy of Hudson), Balloon Fight was the best-suited for the system. The goal in Balloon Fight is simply to float around and pop the balloons of your enemies before they can pop yours. It's basically a Joust clone with a little more personality. In addition to the competing balloon fighters, players also have to contend with thunder clouds and a giant fish that jumps out of the water. The computer also has to be weary of various obstacles within the levels. For example, spinning propellers can easily throw your enemies off course and the same giant fish that periodically jumps from the water to eat your character also craves computer-controlled balloon fighters. The best part of the game is the stellar two-player mode in which players can either cooperate with one another or try their hand at sabotage. The side-scrolling "Balloon Trip" mini-game (in which players navigate through a series of balloon-popping spikes) adds further to the game's versatility. The Sharp X1 wasn't the ideal platform for scrolling screens, but the Balloon Trip mode was a fun diversion nonetheless.
---
1
Ys II: Ancient Ys Vanished
1988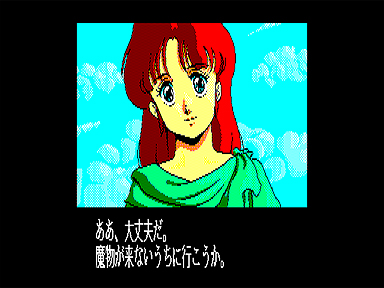 Before we begin, it should be noted that Ys and Ys II are basically two halves of the same game. The sequel looks, sounds, and plays almost exactly like its predecessor, and its story picks up immediately where the first game ended. I had a little more fun with the sequel, but you can consider them 1A and 1B on this list. For the uninitiated, Ys was a landmark action RPG that was defined by its unique combat system. While most of its contemporaries had a dedicated attack button, Ys allowed you to mow down enemies by simply running into them. Since you never had to stop to swing your sword, Ys was more fast-paced than other games in the genre. The story is standard fare for the most part, but the characters are likable and there are so many wondrous things to discover. Whether you're exploring elaborate dungeons or visiting floating continents, there's always something interesting to see. The Ys series is also known for its incredible sound design. The combat system doesn't require players to slow down, but the music is so astounding that you might feel compelled to put the controller down and just listen to the music for a while. There aren't a lot of franchises from the 1980s that are still relevant today, but there's a reason why Ys series has never lost its cult status.
---
Random Lists