The BBC Micro was built by the Acorn Computer company in 1981 as part of the British Broadcasting Corporation's computer literacy project. The Beeb (as it was affectionately known) was embraced by most classrooms in the UK, and it was used to teach computer literacy to children around the country. Although its initial focus was on educational software, the BBC Micro was a versatile machine that could perform a wide variety of tasks. It had various display modes and an abundance of optional peripherals, and its ethos of expandability ultimately made it ideal for gaming. The success of the BBC Micro was attributed to its acceptance as an educational computer, but the home market gravitated to lower cost alternatives like the ZX Spectrum or the Commodore 64. A budget version of the BBC Micro – known as the Acorn Electron – was released in 1983 in an effort to capitalize off the consumer market, but the BBC Micro was a more capable machine. Most BBC Micro games (including all of the games on this list) were also released on the Acorn Electron, but the BBC Micro versions were usually superior.
---
---
10
Impossible Mission
1985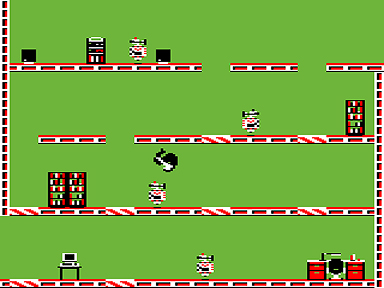 In Impossible Mission, players assume the role of a secret agent who is tasked with infiltrating an enemy base and decrypting a password. Pieces of the password can be obtained by searching through computer terminals and furniture, but things are complicated by the electrified death robots that patrol the facility. The entire game is basically a race against the clock, as players have only six hours to find all of the puzzle pieces. (More pressure is added every time the player dies, as ten minutes will be deducted from the countdown timer.) Because the location of the pieces are randomized in every game, players can't simply rely on memorization. Impossible Mission was one of the most ambitious platform games of its era, and the character animation was especially noteworthy. The game could be considered a precursor to cinematic platformers like Prince of Persia and Another World. The BBC Micro version of Impossible Mission was downgraded from the Commodore 64 original and lacked features like digitized speech, but the gameplay holds up and it's still a lot of fun.
---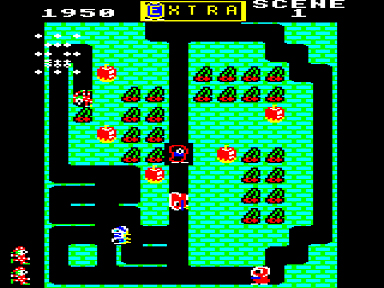 The BBC Micro was home to a number of great arcade conversions, but many of them were shameless knockoffs. Pac-Man became Snapper, Galaxian gave way to Arcadians, and Mr. Do! was replaced by Mr. Ee! (Mr. Do! drew heavily inspiration from Namco's Dig Dug, so it's not like it was the most original game in the first place.) The object of the game is to dig tunnels, collect cherries, and avoid monsters. It's a simple concept, but there are multiple ways to approach the game since the levels can be completed by either collecting the cherries or by crushing the monsters. Despite the name change, Mr. Ee! is one of the better home versions of Mr. Do!. (Some versions replaced the clown protagonist with a snowman for some reason.) It doesn't score a lot of points for innovation, but it's highly replayable. If nothing else, the game deserves credit for providing definitive proof of circus clowns and dinosaurs co-existing.
---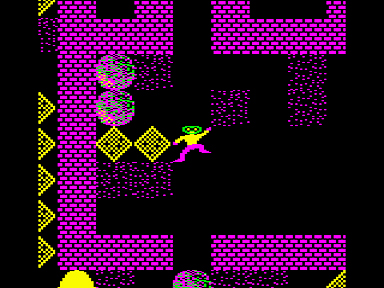 The goal in Repton is to navigate through underground mazes, collect diamonds, and avoid falling rocks. The game draws inspiration from Boulder Dash, but it puts more emphasis on solving puzzles rather than on-the-fly improvisation. (In the simplest terms, Repton feels like a less chaotic version of Boulder Dash.) The series spawned a number of sequels on the BBC Micro, but Repton 3 was the best of the bunch. The game introduced a handful of new mechanics – including a time bomb that had to be defused in each level. This ultimately forced players to be more mindful of the routes they took in each stage. Repton 3 also include a map editor which allowed players to make their own levels and create new graphics. The map editor helped increase the longevity of the game and made it more replayable than either of its predecessors. The Repton series made its way to various home computers in the 1980s and updated versions have even been released for iOS and Android devices, but I'll always associate the franchise with the BBC Micro.
---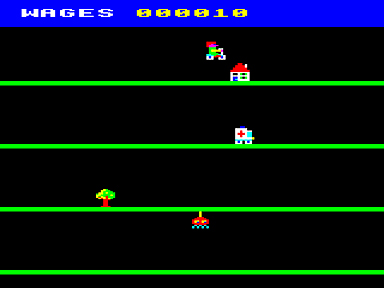 Dare Devil Denis (also known as Daredevil Dennis) is a stunt-filled romp that proves that video games don't have to be overly complex. The entire game is played with only three buttons (accelerate, brake, and jump), and the premise itself could not be more simple. The game follows the exploits of a Hollywood stuntman who makes his living by performing death-defying tricks on motorbikes, jet-skis, and ski-doos. More specifically, his goal is to jump over things and avoid as many obstacles as he can. It's easy to jump over stationary objects like houses or trees, but proper timing is required if you want to jump over a speeding ambulance or avoid a low-flying helicopter. Denis is under constant threat of being fired, but he will be awarded with an Oscar if he does well enough. Most Oscar winners have to whore themselves out to Hollywood executives, but all Denis has to do is jump over the occasional whale with his jet-ski. Although you can explain the game in 30 seconds, Dare Devil Denis provides hours of fun.
---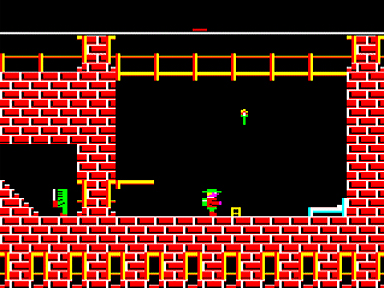 In Castle Quest, players are tasked with exploring a vast castle in search of hidden treasure. In that sense, it's pretty much exactly what it says on the tin. Although the premise is straightforward, the game demands a lot of lateral thinking. Castle Quest was marketed as "the most challenging game ever devised for the BBC Micro," and it focused on problem solving rather than mindless action. The game also required tremendous dexterity on the part of the player, and 13 different keyboard keys were used for various functions. Castle Quest is cumbersome at first and some of the challenges seem unfair, but it's the kind of game that becomes more enthralling the longer you play it. The game is fondly remembered for its ingenuity, and it was also notable for being one of the first BBC Micro games to feature smooth hardware scaling. This ultimately helped it stand out from other games of the era that featured static screens. There are a lot of games on the BBC Micro that were cut from the same cloth as Castle Quest, but few can match its creativity.
---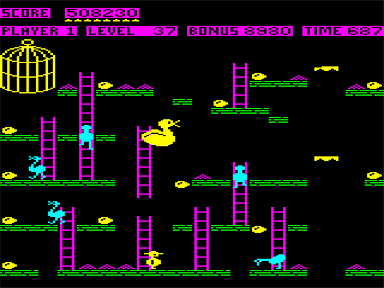 Anyone who grew up with an 8-bit computer is probably familiar with Chuckie Egg. After all, the game was released on over a dozen systems and sold in excess of a million copies. The objective of the game is for players to enter a hen house and collect a dozen eggs before the time runs out. Like many platform games of the era, the gameplay mostly revolves around climbing ladders, riding elevators, and avoiding pitfalls. Players also have to be mindful of angry hens and a giant caged duck for some reason. It's unclear why the duck is hanging out in a hen house, but I'm willing to suspend my disbelief. Of all the games on this list, Chuckie Egg is arguably the easiest to jump into. There's not much of a learning curve, the objectives are clear, and the controls are remarkably responsive. Despite its simplicity (or perhaps because of its simplicity), the game is still fun to play today. If you're looking for an egg-celent platformer on the BBC Micro, then Chuckie Egg is egg-actly what you're looking for.
---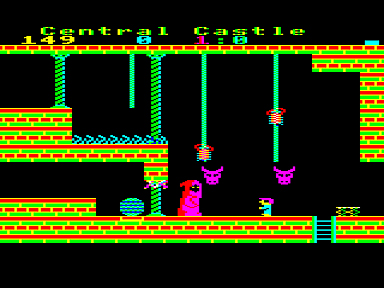 Citadel is a platform game with a strong focus on puzzles. The primary objective is to stop an alien invasion by collecting crystals and eventually destroying a starport, but this is easier said than done. As players explore the citadel in search of the crystals, they'll encounter a myriad of enemies. Unlike most games in the genre, players are encouraged to avoid their enemies whenever possible. Most of the enemies can't be destroyed, so you'll have to flex your creative muscles from time to time. Many of the games puzzles require players to obtain keys or other items in order to proceed. Ice crystals can freeze water, buckets can be used to extinguish fires, and trampolines will allow you to ascend to otherwise unreachable platforms. Some puzzles require the use of multiple items. In one instance, you'll need to collect a cannonball and gunpowder in order to knock down a brick wall. You can only carry two items at any given time, however, so you'll have to plan accordingly. Many BBC Micro games were inspired by Citadel, but it's hard to beat the original.
---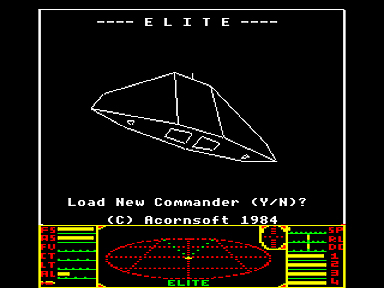 If this was a list of most revolutionary BBC Micro games, Elite would have been the clear choice for the number one slot. The genre-defining space trading game was known for its open-ended gameplay and revolutionary 3D graphics. As players travel across the universe, they can earn credits by engaging in activities like piracy, trade, military missions, asteroid mining, and bounty hunting. The money they generate can then be used to buy better weapons, increase their cargo capacity, or upgrade their ship in other ways. It's always fun to discover new planets or partake in interstellar dog fights, and the game even makes routine activities like docking your ship feel exciting. Most sci-fi games of the era were shallow Space Invaders clones, but Elite broke new ground and defined an entire genre. You simply won't find many games from 1984 that are more complex and engaging. Although the game was ported to nearly every other home computer, the BBC Micro version was the very definition of a killer app when it was released. The BBC Micro was primarily known for its educational software, but Elite had an attach rate that was comparable to Super Mario Bros. on the NES.
---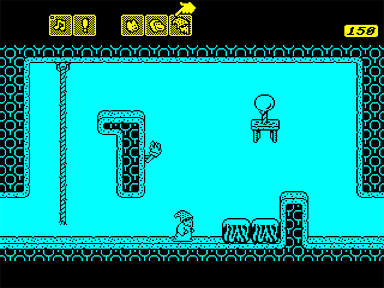 Imogen is a unique game that blends platforming and puzzle-solving elements together. The game is centered around a wizard named Imogen who apparently lost his mind after transforming into a dragon to protect his village. He was locked up in a dungeon in order to protect the community, but he has the chance to regain his freedom by obtaining the sanity spell. As Imogen explores the dungeon, he relies on his transformation abilities in order to progress. His cat form allows him to leap long distances, his monkey form can climb ropes, and his bird form naturally grants the power of flight. He has to transform many times in each stage, and some of the puzzles require him to utilize multiple transformations. Imogen cannot be harmed during the game, but his magic powers are limited and he is only able to transform 150 times during the course of his adventure. Trial-and-error is sometimes required and the stages are presented in random order, so players are encouraged to proceed with a caution rather than jumping in with both feet. It might not be the most visually impressive game, but Imogen is an imaginative game that's full of charm.
---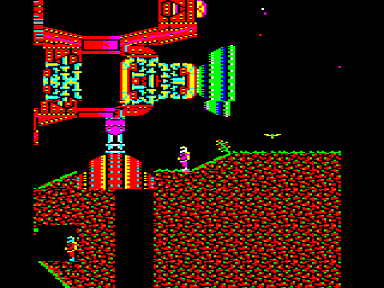 Exile is an ambitious action-adventure game and one of the earliest examples of a true "Metroidvania" style game. As players traverse a vast network of tunnels, they can explore their surroundings in a non-linear fashion. The challenges don't always have to be completed in a specific order, and some tasks don't have to be completed at all. The exploration-based gameplay was fairly advanced for the day, and the AI also showed a remarkable level of sophistication. The enemies seemed to be aware of nearby sounds and anything in their line-of-sight, and they would even remember where the player was last seen. The Newtonian physics engine was arguably the most impressive aspect of the game, and concepts like gravity and inertia were incorporated into various puzzles and gameplay elements. Exile was hailed as a masterpiece when it launched in 1988, but it was never released outside of Europe and doesn't necessarily get the credit it deserves. It arrived late into the lifespan of the system, but few games pushed the boundaries in the way that Exile did.
---
Random Lists